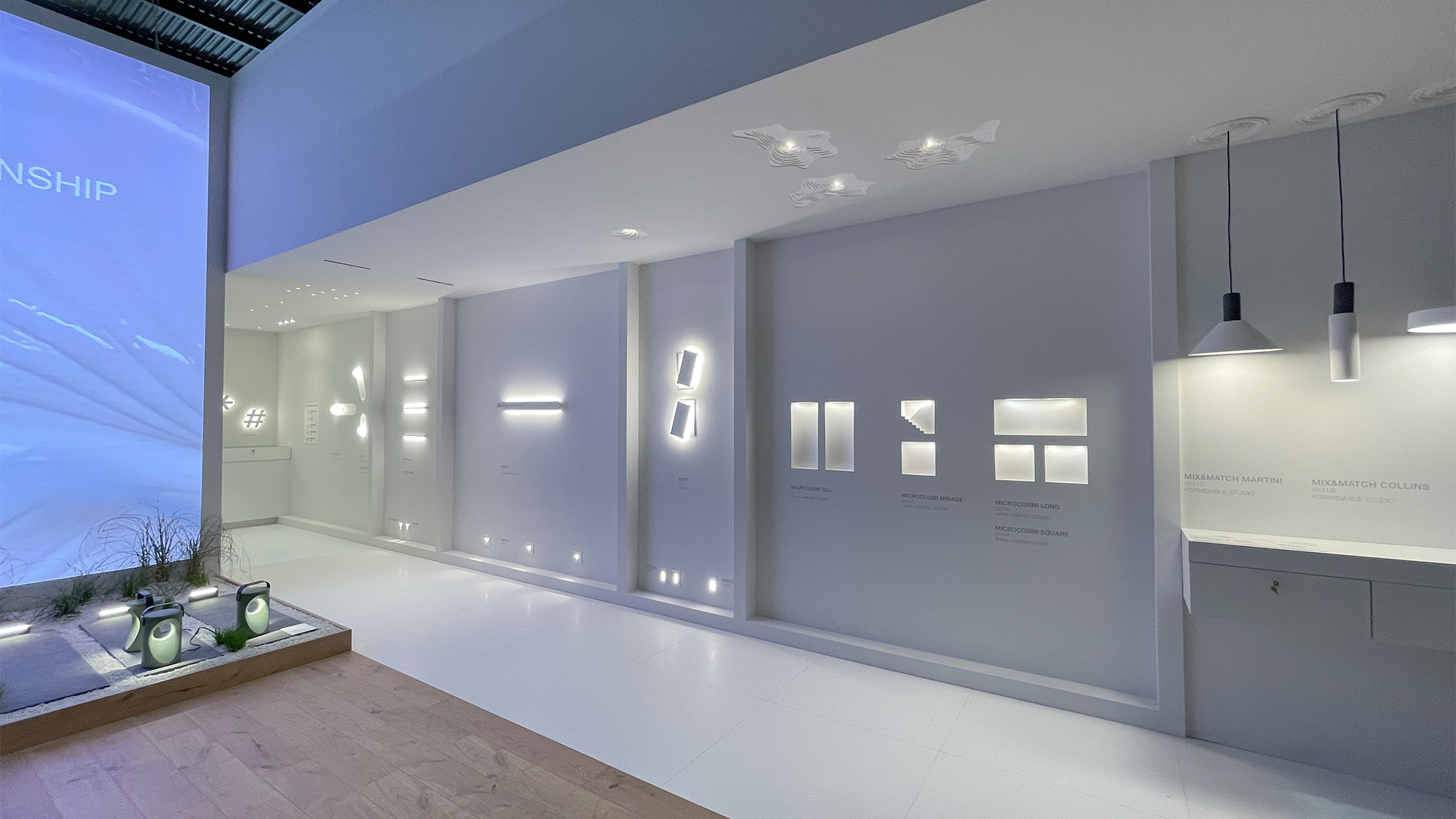 New collaborations with exceptional designers, exclusive news are waiting for you at our stand at Euroluce.
9010novantadieci stand
Our stand is developed in two areas that give an optimal presentation for both indoor and outdoor news, placed in niches dedicated to enhancing each proposal.
The visitor inside the stand is welcomed by a video that narrates the values ​​of 9010novantadieci. To facilitate recognition of each product on display, the commercial names have been placed next to them and very handy maps have been created to illustrate the compositions of recessed ceiling-mounted spotlights. In order to offer a 360º view of each article, an area dedicated to the vision of the technological components of the products has also been set up.
Our stand purifies air
All our indoor news are made with our material CRISTALY®, which has been tested by the American independent laboratory International Product Assurance Laboratories, and has been found to be a material with a powerful antibacterial effect.
The process works both in light and in the dark, to guarantee the ability to transform harmful substances in the air into harmless substances, with a process similar to chlorophyll photosynthesis.

Despite these results now arriving, CRISTALY® has maintained its formula and its artisanal process for years: all the millions of products shipped in CRISTALY® and installed in your homes, hotels, restaurants, offices, spas, and all spaces illuminated by 9010 light, have always been working to degrade the bacteria present in the environment! This milestone contributes to reach some of our Sustainable Development Goals.

New products and designers
We worked along with Nava + Arosio Studio, a young duo with a headquarter in Milan. Research and experimentation are the engine of their ideas. The union between contents and aesthetic is the goal of their approach to design, in which every project is developed to meet the company's needs and, ultimately, of the final users. Thanks to this collaboration SEGNO and MICROCOSMI were born.
Our outdoor product made in BETALY® for the first time at Euroluce
In addition to our indoor items, this year we are also bringing our outdoor products to Euroluce for the first time. All our outdoor products are made in BETALY®, which spearheads the technology developed by 9010novantadieci, it is possible to obtain extraordinary products in terms of characteristics and duration thanks to the ultra-high performing material. A selection of cements, precious marbles, quartz and fluvial sands create an extraordinary synergy of components.
You will have the chance to touch yourself two of the new entries of the OOLITE family designed by Maurizio Quargnale: OOLITE BIG e OOLITE CUP.
pausa caffè?
To celebrate 9010novantadieci's return to Euroluce, after del 2019 edition our multimedia office designed an exclusive gadget that will be available at our stand, for those whom will have the pleasure to listen to a short presentation of the new products on display.
The unique poster presents the article 2516Q with an ironic reminder writte in Italian: "pausa caffè?" which translates literally to "coffee pause?". Perfect to be hanged in your office.

Archiproducts Design Selection - Salone del Mobile 2023
9010novantadieci is part of the Archiproducts Selection 2023!
With 50,000 copies distributed at the Fair and throughout Milan and over 70,000 downloads of the digital version, the "Milan Design Week" guide is the ideal tool for communicating innovations to architects and designers during the Salone and Fuorisalone days. This news confirms the excellent partnership between Archiproducts and 9010novantadieci, after the extraordinary hat-trick at the Archiproducts Design Awards, which brought VIMA, MANDALA and MINÚ to the podium!