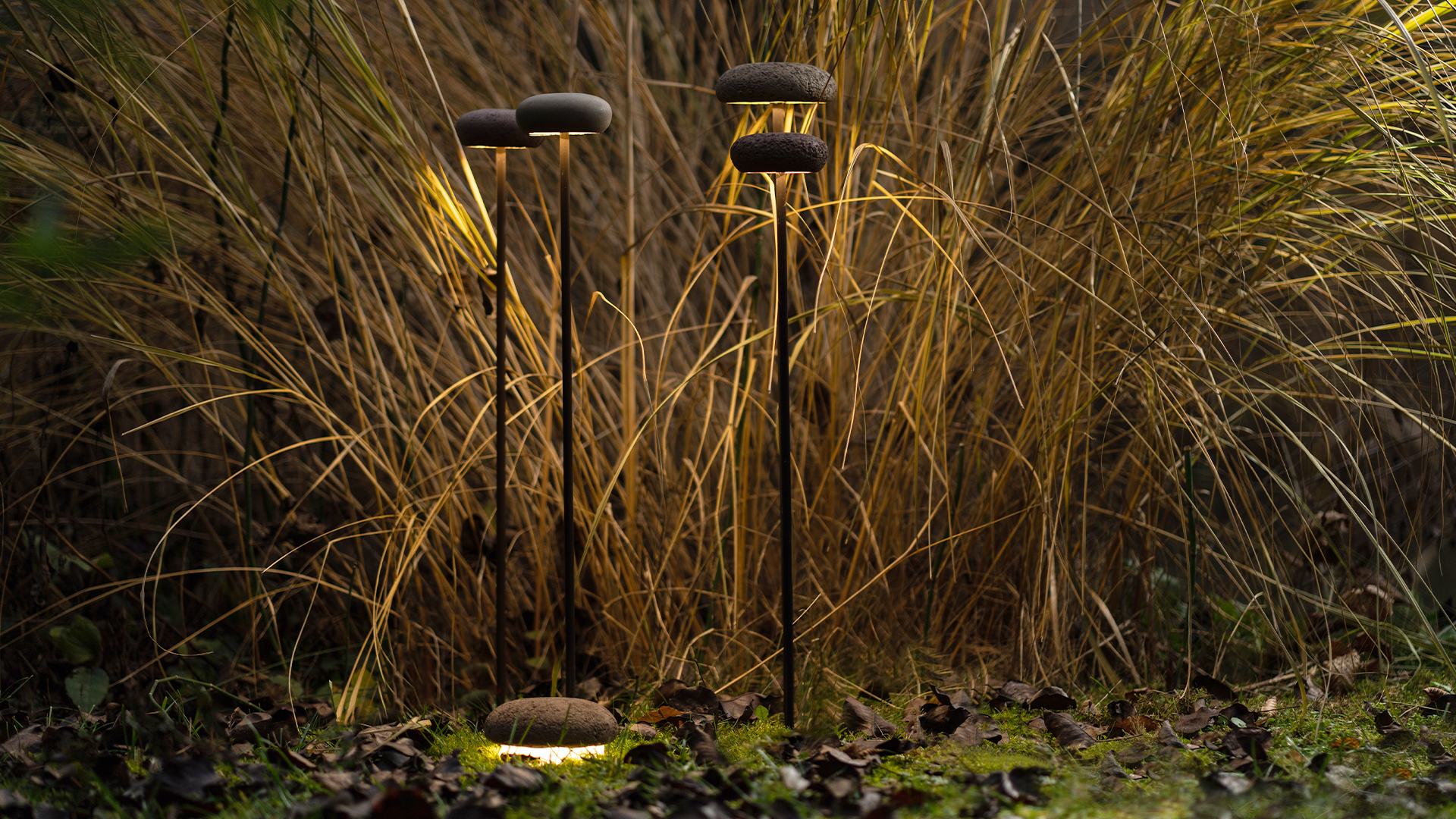 Spreading a new approach, highlighting beauty and the relationship between nature and design.
9010novantadieci presents OOLITE: a luminous outdoor element with a minimal design, natural colors and textured finishes that has the ability to integrate perfectly into the nature that surrounds it. Designed to illuminate outdoor areas, paths, planters, gardens, patios, and outdoor environments in which it is installed. Illuminated, it is equipped with a latest generation LED light source with maximum efficiency and high visual comfort. When turned off, it represents an element of continuity with the vegetation, becoming an integral part of it. OOLITE lends itself to multiple interpretations: it can be positioned alone but offers its best aesthetic and luminous performance when it is in a group. It comes from nature, enriches it, and joins it with synergy.
OOLITE Family
A design tool
For the creation of the OOLITE family, the goal was to create a product with a light exterior but with a resistant and efficient soul, both in terms of design and luminous effect, enhancing its natural character and beauty with different material textures.
The light products belonging to the OOLITE family have been conceived as a design tool for decorative lighting within green areas. Products that integrate into nature and enhance nature at the same time.
The best effect of dialogue with the environment is when OOLITE, in its various versions, is installed in groups of at least two or three bollards or pathmarkers, alternating their heights and choosing from the wide range offered by 9010novantadieci of colors and textures that recall the nature in which it is inserted.

OOLITE CUP
An absolute novelty
An absolute novelty in the world of outdoor lighting, OOLITE CUP, while maintaining its primary function as a luminous element, expands the relationship between light and nature, realizing itself as a container of water or small seeds, and thus becoming a valid refreshment point for birds and other creatures.
In fact the shape with soft curves has a basin in the upper part capable of containing natural delights, or a basin of essences to become a diffuser of aromas and perfumes.
OOLITE CUP is available in the SMOOTH version, with a smooth texture to guarantee maximum effectiveness of the container, and in all the material colors of BETALY®. OOLITE CUP was also featured in the February 2023 issue of the Gardenia magazine: find out more on the dedicated article!
OOLITE BIG
To respect nature
To respect nature and all its different forms, 9010novantadieci presents OOLITE BIG. This bollard light maintains the stainless steel stem and has a larger head than its younger brother OOLITE. OOLITE BIG is an evolution of the concept that nothing in nature is born the same, but every being is unique and so is every handcrafted creation made by 9010novantadieci. It is ideal for furnishing and lighting, creating a symphony of shapes and textures, alternating the installation with smaller, lower elements, or installing it individually for a scenic effect as a protagonist.
OOLITE TERRA
To illuminate and define
9010novantadieci completes the collection with a particular stemless version: OOLITE TERRA. A pathmarker specifically designed to illuminate and define paths and transit areas.

The iconic head of OOLITE is paired with a diffuser, creating a 180° grazing light, functional and with minimal aesthetics. Like a water lily floating on the water , OOLITE TERRA becomes a luminous element that floats in open spaces, attracting the eye and accompanying the footsteps.

Maurizio Quargnale is a designer and lighting designer who has always been oriented towards a "kind" approach to the environment.
His challenge is to create sustainable lighting objects, respectful of the context in which they will be installed in which the synthetic and functional design dialogues perfectly with the vegetation often becoming part of it as an almost indistinguishable but highly effective element of continuity.
Discover every OOLITE product!