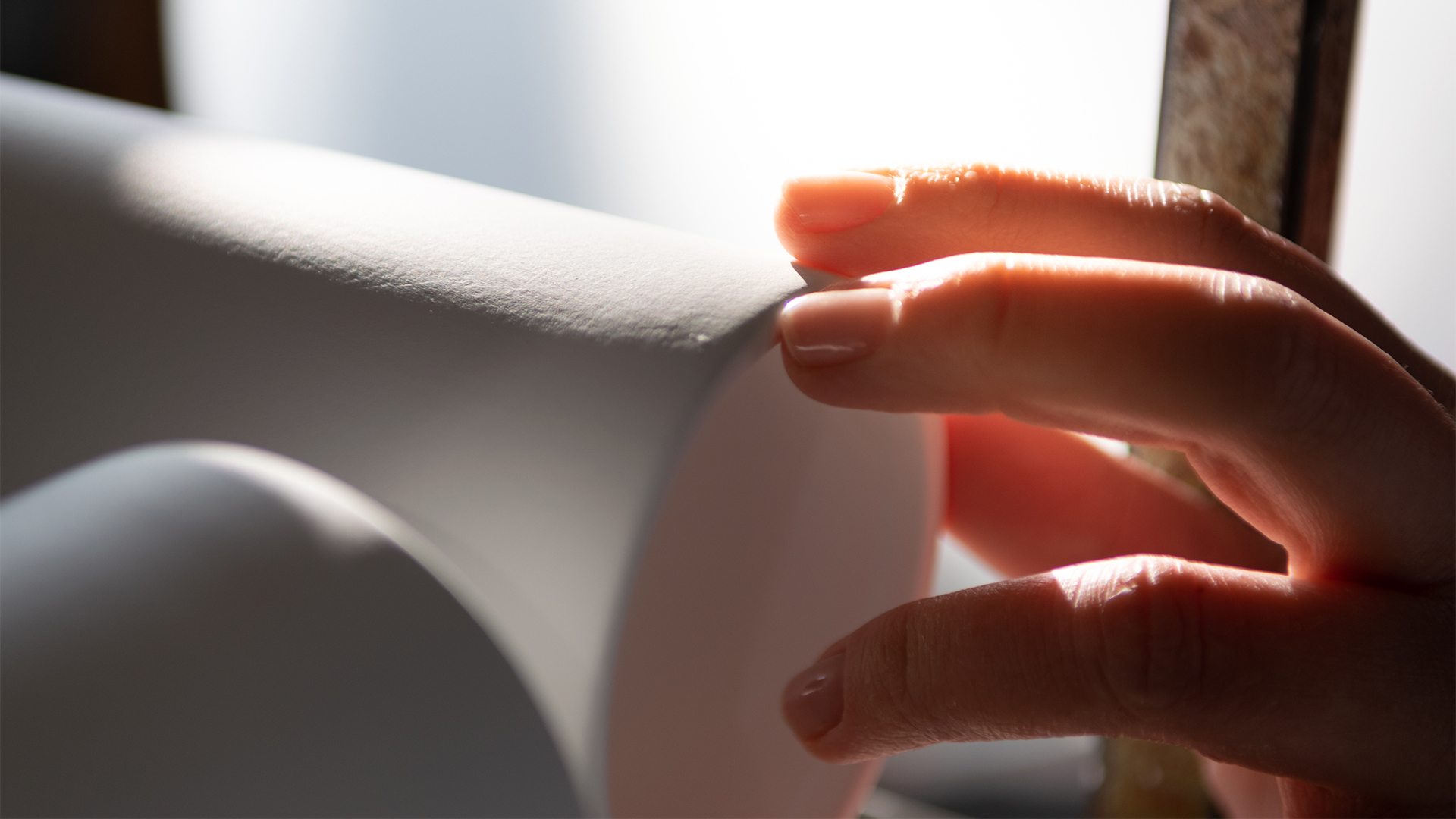 Lighting with art - that is our mantra! And to achieve it, 9010novantadieci uses innovative, elegant and innately beautiful materials that enrich the architecture that makes use of them by bringing out unique and renowned properties.
We are proud to persist on the path of innovation and sustainability in the production of LED lights, using non-toxic materials and reducing paper consumption and toxic emissions.
Handcrafted production under the sign of sustainability, allowing customers to customize the lighting of domestic and professional environments in every detail.

The latest materials for designer lighting
Our materials do not run after consumer trends, but they are created to predict new people's needs and respond to current ones in a more effective and eco-friendly way.
Our craft tradition fuels the creation of environmentally friendly, attractive lighting fixtures with excellent technical properties.


CRISTALY®: resistance and safety
CRISTALY® is a material with a purity that can be felt at the touch of a finger and which catches the eye with its enchanting whiteness. It can be easily applied in combination with fillers and other materials in the production of attractive recessed lighting spots, such as recessed wall spotlights, recessed ceiling lamps and LED spotlights. Due to its non-flammability and low thermal conductivity, it is a safe choice in easily accessible areas and even purifies the air, thanks to its powerful antibacterial component. It can be easily decorated with water-based paints, thus creating unique, original and visually appealing products.

BETALY®: performance and elegance
BETALY® is an ultra-performance compound that combines a satisfying and elegant design with exceptional mechanical performance. It is a handcrafted element that allows you to personalise your environment by giving it a unique, sinuous and innovative appeal.
It is an effective and refined choice for furnishing outdoor spaces such as terraces, patios, gardens with outdoor wall lights, garden bollards, outdoor recessed spotlights bringing a breath of modernity and style to your lighting project.
ALUMITE®: strength and brightness
ALUMITE® is composed of an aluminium alloy that is excellent in terms of brilliance, versatility and resistance to expansion. It is the result of the expert craftsmen, whose experience and technical specialisation leads to the creation of such technical wonders.
As a result, it can be easily cut to any desired design. It can be used to create modular bar systems, such as concealed LED profiles that provide refined and elegant lighting.

CERAMICA 9010®: simplicity and finesse
CERAMICA 9010® is the outcome of a passion for tradition that does not ignore technical innovations, but on the contrary accepts them to perfect the result. It is made from valuable mineral clays processed by expert hands according to proven procedures. It is produced by mixing water and clay in a plaster mould: as it solidifies, the clay matures to a thickness proportional to the absorption time.
The result is elegant ceiling lights with simple lines and shapes that embody the passion and the handmade tradition of Nove (VI).


CONCRETE indoor 9010®: lightness and stability
CONCRETE indoor 9010® is the material resulting from the targeted combination of mineral clays and lightened cement. A high-performance element that, thanks to its low weight, makes for a stable yet lightweight structure. The bubbles flowing along the surface do not affect the structure's volume and do not compromise its quality; on the contrary, they conspicuously enrich the design. It is a completely non-toxic material used for the creation of designer wall lights, a lovely and elegant choice for illuminating any room.


Thanks to our long experience in the lighting sector, we produce completely hand-made lighting fixtures, which are used in many lighting projects, for homes, hotels, cottages and refugees, both nationally and internationally.