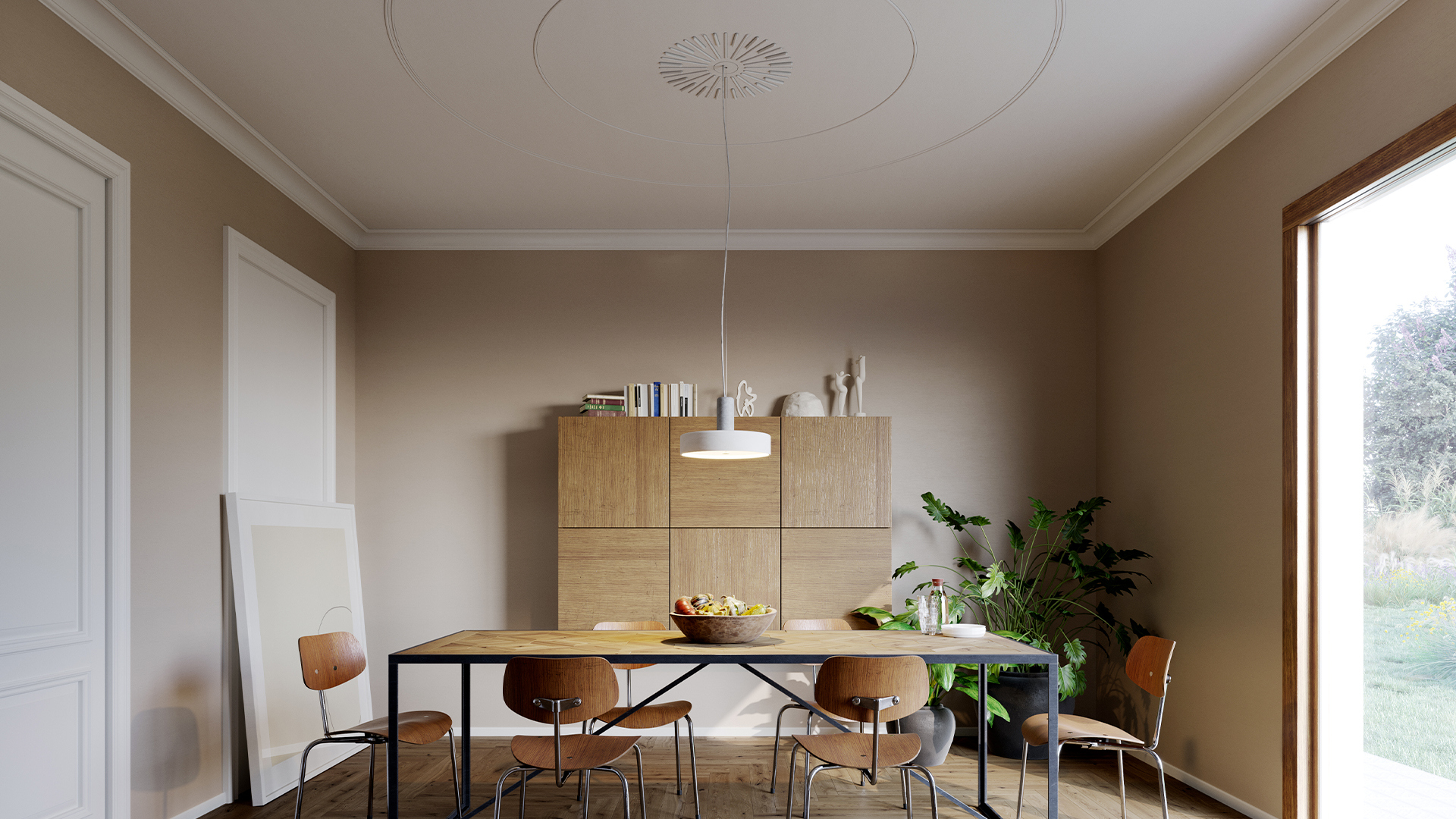 Home lighting is a crucial aspect to follow to ensure the well-being of the occupants.Pendant lamps are ideal installations to provide the required light and enhance the elegance of home environments.
Designer pendant lights: why they enhance your home
Over the years, pendant lighting systems have evolved to the point where they are considered true pieces of furniture.
Suspended chandeliers are produced in various shapes and materials so that everyone can choose the one best able to enhance the aesthetic choices of their rooms. Thanks to their versatility, in fact, they are evaluated both on the basis of the type of light they produce and the consumption they require, but also because of the scenic effect they produce when on or off.
Pendant lamps are lighting devices that hang from the ceiling and can consist of a single light with a rose window and a multiple light.
They are lighting systems capable of producing both direct and diffused light, available in various models depending on the characteristics of the room. A room with high ceilings can accommodate a longer suspension and a larger lamp, which on the contrary are not recommended for houses with small ceilings such as modern ones. In general, however, it is preferable not to adopt a pendant length of more than a quarter of the total length of the room. Indeed, care must be taken that the light does not directly hit those reading or watching TV in the eyes.
It used to be that hanging lamps were installed in the center of the room, but now this rule is no longer strictly followed. In fact, it is not uncommon to have chandeliers focused on the table to ensure adequate lighting.
Designer pendant lamps can be used in conjunction with other lighting sources such as recessed spotlights to achieve the desired effect.
Adjustable pendant lamps allow the light produced to be directed towards particular points in the room or objects to be enhanced. There are models with direct and indirect light that can emit light both upward and downward.
Designer table pendant lamps constitute direct points of light toward particular areas to produce timely and effective lighting for reading and concentration.
Designer pendant lamps: how to choose the right ones for every style
Choosing the right designer pendant lights can produce bewitching lighting effects and a satisfying sense of relaxation. Lights can be aimed to increase the concentration of those reading and improve the visibility of the cooking area. Size, colors and materials are key aspects to consider to achieve the ideal lighting effect!
Metal chandeliers combine effectively with modern or industrial cut environments. In addition to these, there are pendant lamps made of every material: wood, stone, rubber, fabric and even paper. A glass pendant lamp generates a bewitching interplay of brightness and transparency that produce a welcoming light with a refined tone. Plastic models are characterized by both spirited and original visual styles and more traditional cuts. For example, we can opt for wooden chandeliers for the living area, fabric lampshades for elegant rooms with finished details, glass lamps to enhance the classic cut of the room. For rooms with a sophisticated cut, we can opt for researched models with great attention to detail. The decor of traditional houses can be enhanced by lamps with fabric lampshades of peculiar shape, eye-catching and original without exaggeration.
CRISTALY® pendant lamps are pure to the touch and easily customized with water-based paint. A 100% made in Italy material completely compatible with plaster for plasterboard installations.
CRISTALY® gives off a powerful antibacterial effect in both light and dark, designed to neutralize harmful substances in the air.
How to choose the perfect designer pendant lamps
The pendant lamp that's right for you is a model proportionate with the width and height of the room, so that it illuminates without producing areas of shadow. These fixtures prove suitable for rooms with deep roofs but are adaptable to other rooms as well. Because of the versatility with which they are made, they constitute satisfying décor elements that are ideal for homes that care about enhancing the décor elements.
Moreover, they can be chosen differently depending on the characteristics of each room. In the dining room there can be two, one for the meal preparation area and one for the conviviality area. For the bedroom, two lamps can be introduced, one above each bedside table at the edge of the bed. In general, however, hanging lamps should not be in the way of those in the room, and they should be oriented so as not to strain the eyes. In terms of size, they should be proportionate to the width of the room: if too large they are intrusive, if too small they are lost within the space.
9010novantadieci designer pendant lamps in a variety of extravagant and eye-catching shapes: from coffee pot shapes to ALUMITE® tubulars, proposals suitable for the most modern and contemporary environments and tastes. In addition, they can be enriched by splendid CRISTALY® rosettes in different shapes and sizes, a sensitive addition that enhances in terms of elegance and originality any environment.
Why choose designer LED pendant lamps
Pendant lamps with LED lighting are the right choice for those instances when you need to leave the light source on for a long time. Modern LED lamps combine the visual value of installations with the energy benefit they are able to bring, lowering the consumption associated with lighting.
A model with a dimmer, for example, makes it possible to adjust the light intensity emitted to resort to only the light really needed from time to time.
9010novantadieci is at your disposal to provide you with classy pendant lamps suited to your needs. For over 50 years we have been producing innovative lighting systems with an eye for tradition and the environment.