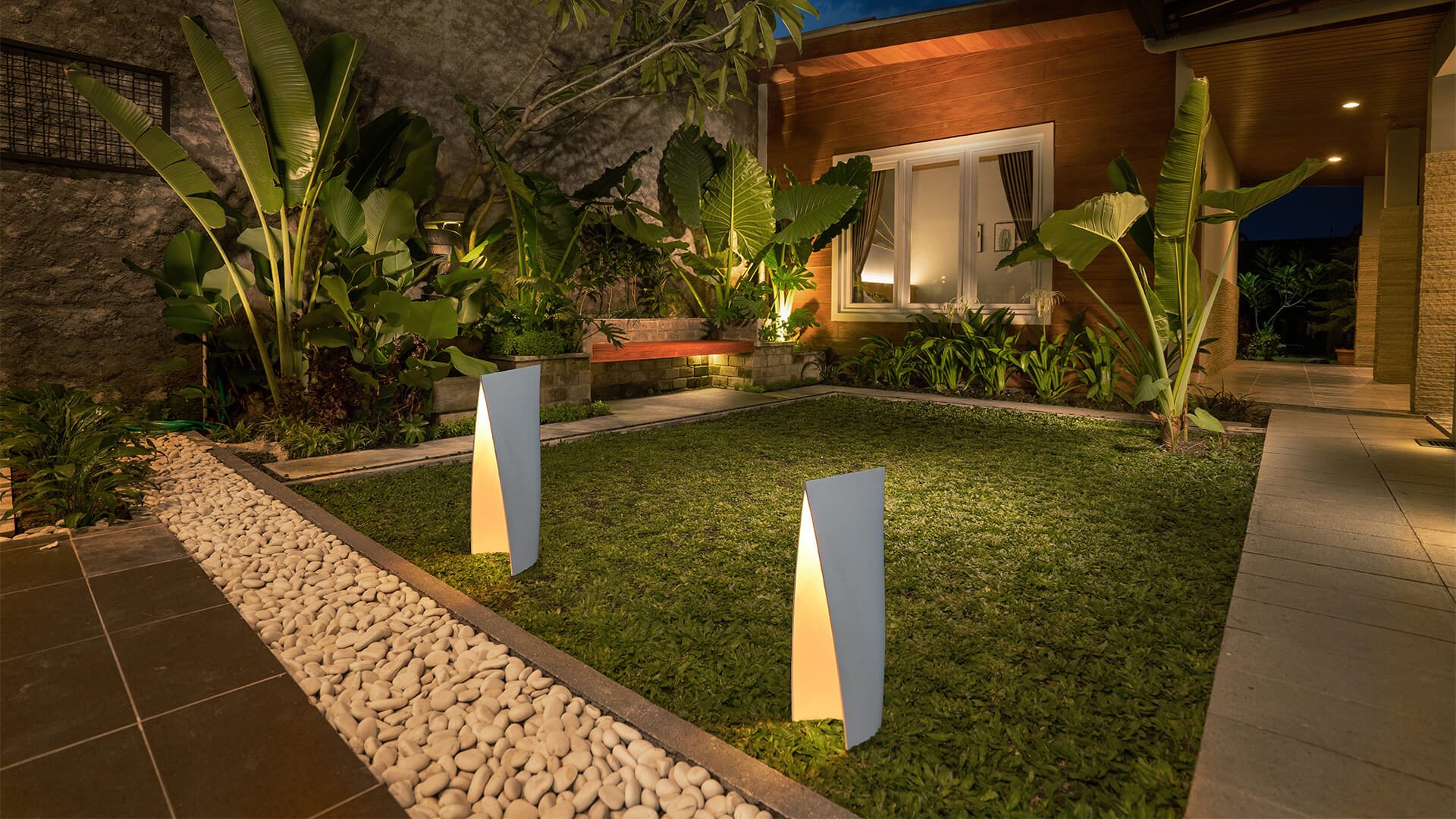 The garden is not just a corollary to the house, but a calling card that from the first glance should convey a feeling of sophistication and care to visitors. An elegant mediterranean garden is the ideal area in which to escape the summer heat, an oasis of pristine greenery from which to admire the sunset and indulge in the much-coveted moment of undisturbed relaxation of the day.
How to illuminate the mediterranean garden
The mediterranean garden, with its light-colored stone pathways, colorful flower beds, classical-style sculptures and marble columns, is an exquisite addition to the home that deserves to be enhanced by the right form of lighting.
A skillful arrangement of outdoor lights makes it possible to illuminate a mediterranean garden while taking into account the type of vegetation growing within it, so as to enjoy its beauty to the fullest even in the evening hours.
Outdoor spotlights with downward-facing light make it possible to highlight the borders of the mediterranean garden, possibly they can be placed between bushes and flower beds so that they are not too obvious.
Lighting for mediterranean gardens should be arranged to create easy pathways to accompany visitors to the entrance, down stairs, and in parking operations. At the same time, a purposeful arrangement of light sources makes it possible to enhance the garden's strengths in a satisfying symbiosis of shapes and coloration that will not fail to impress visitors.
Garden spotlights
make it possible to produce soft lighting that expands, lending an aura of sophistication to the garden, an irresistible combination of elegance and functionality. They blend in effectively and allow you to illuminate the landscape unobtrusively.
How to illuminate a mediterranean garden with spotlights
Outdoor recessed spotlights allow visitors' eyes to be drawn to the most bewitching details of plants and rocks that suggest an aura of antiquity imbued with charm. Spotlights make it possible to illuminate mediterranean garden vegetation in an unobtrusive but effective way without being forced.
If we want to focus attention on particularly rewarding areas, we can place low stakes that provide the right light at the height of the detail in question in a timely manner.
How to illuminate a mediterranean garden with LED lights
9010novantadieci outdoor lights are made according to a craftsmanship cut that goes well with the characteristics of a lush natural environment.
LED lamps
, in particular, are suitable solutions for lighting both large and small
mediterranean-style gardens
. LED lamps have low power consumption even with long uses, so they are suitable for those who intend to use them throughout the night to provide their
green space
with
prolonged illumination.
Recessed wall-mounted LED lamps can be discreetly placed in a mediterranean garden to provide the required light without being noticeable to the eye, matching the specifications of the natural environment.
Outdoor LED wall lights
are simple yet elegant solutions to ensure the required light according to the various times of the day.

Outdoor pathmarker spotlights
make it possible to demarcate passages within the mediterranean garden in an elegant and precise manner, focusing attention on the walkable areas of the garden and drawing it away from those areas we do not want our eyes on.
Recessed LED spotlights
achieve optimal brightness, long life, and exceptional energy savings. They can be easily installed in structures so that they discreetly provide the required light without being annoying to the eye.
9010novantadieci is ready to provide you with high-quality LED lamps for mediterranean gardens that will meet your needs. We have been producing state-of-the-art lighting systems for over 50 years, paying attention to respecting tradition and minimizing environmental impact