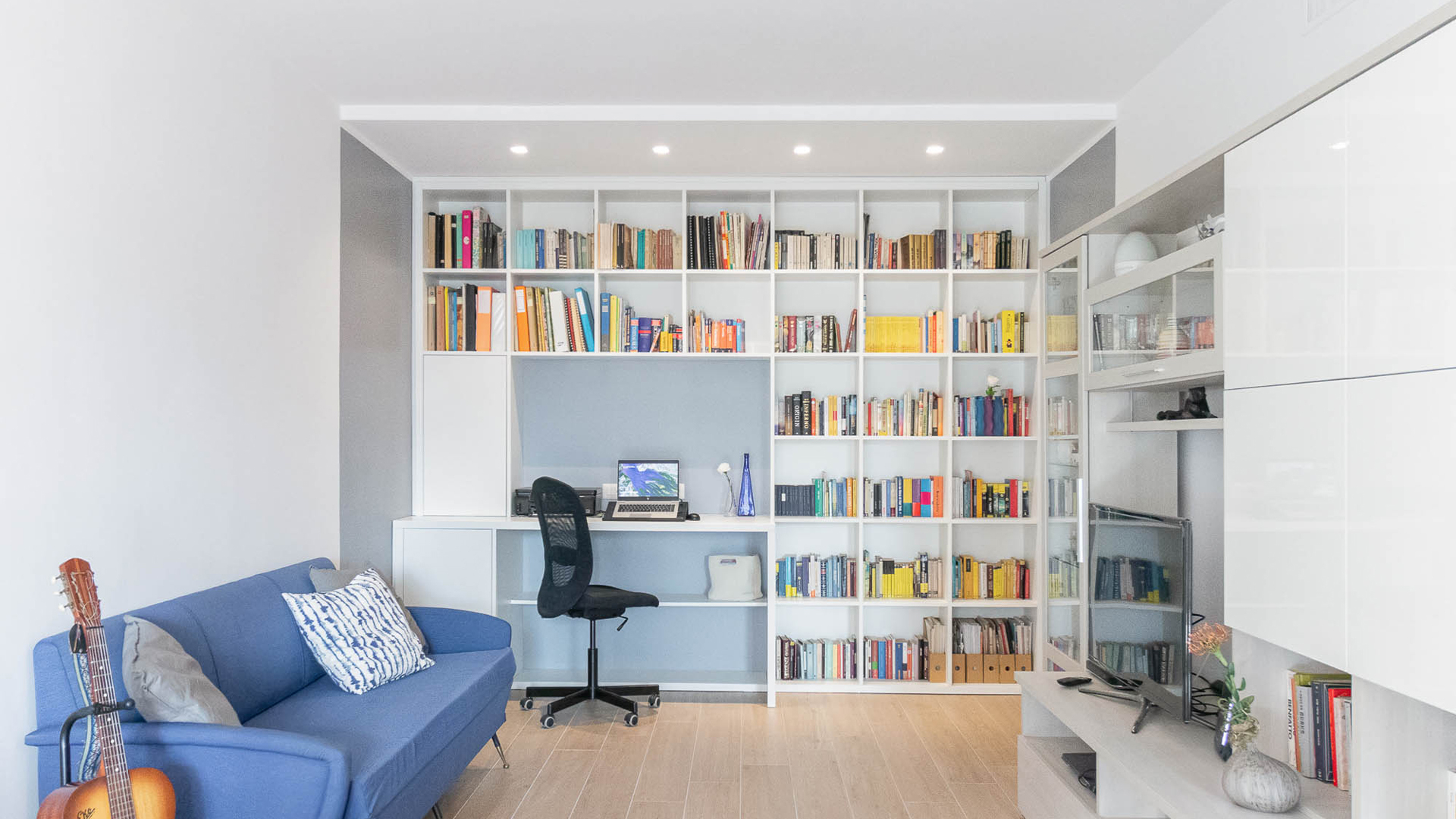 Combining the home environment with professional life is not easy for everyone: as we have learnt from the Covid-19 experience, rooms designed for relaxation can be revised to accommodate professional tools, dining rooms can be converted for remote calls and meetings. In short, home and workplaces can merge.
Unfortunately, not everyone has rooms that are already enriched by natural light. However, good designer lighting can make home environments more functional for smart working and relieve work-related stress.

Here are some tips on how to light a home office in an original and elegant way, with an eye on practicality!
How to choose lighting for smart working: what you need to know
Positioning the work desk near natural light makes it easier to see and helps improve mood. When sunlight is not enough, it must be supplemented with artificial lighting sources. Desk lighting must be designed in relation to the characteristics of the smart working environment: a combination of artificial and natural light filtering through the windows can soften shadows and soften contrasts.
The lighting for smart working must be optimal in order to generate as little deviation as possible between ambient light and the monitor, so that the eyes do not have to constantly readjust. In order to avoid unpleasant shadows or annoying reflections, light points should be distributed in various positions in the room so that the lighting is as uniform as possible. Ideally, the brightest light should be concentrated in one's own viewing space and not directly hit the screen, so that it remains slightly darker behind.


How to light a workspace at home: the best solutions
Choosing the right designer desk lamps is essential for turning tables and desks into efficient supports for working effectively from home.
The ideal desk lamps are those that give off a direct light with a neutral colour, whereas light that is too warm or too cold risks straining the eyes.
A useful desk lamp for smart working is one that can be directed and swiveled to face the workstation. We must remember not to place it too close to the computer screen to avoid a dazzling effect, better to place it behind or to the sides of the screen.
Remember that left-handed people should have the light coming from the right while in other cases from the left, so as to avoid the formation of annoying shadows.
We can opt for lamps that emit around 500 lux in order to align with the European DIN EN 12464-1 standard on interior lighting in workplaces, i.e. with a brightness of around 1000 lumens.

We have to take into account that rooms in the home often have a lower average illumination, around 200-300 lux, so if we want to optimize rooms for working from home, we have to compensate with artificial light sources suitable for the purpose. We can move towards devices that emit light with a temperature of around 3000k as the warm, natural white hue helps to reduce stress on the eyes, especially when working for long periods in front of a screen.
A designer wall light with a swiveling spotlight allows effective illumination even when there is little space to position it. They are discreet and elegant light sources that leave the PC and documents free, and ensure that there is sufficient illumination on the keyboard and the areas where people read and write.
Pendant lamps are also functional light sources for working from home, as well as lending themselves as elegant furnishing elements. They can be square, rectangular and circular and be made of wood, metal, silicone, ceramic and other materials. They can be chosen according to their colour rendering and the brightness emitted to best match the natural light in the home.
We can adopt, depending on the decor of our home office, designer pendant lamps in a modern or vintage style that offer an extra element of sophistication.

LED lighting for the home office: why does it pay off?
When you spend hours in front of screens and over documents, efficient lighting becomes essential to preserve your health and ward off fatigue. LED lamps for smart working are maintenance-free and offer long-term cost savings.
LED lights for the home consume on average 60 per cent less energy than halogen lights, can last up to 30,000 hours, do not flicker, and provide an effective mix of elegance and practicality that helps those who have to work from home.
LED spotlights recessed into the ceiling allow even illumination of rooms used for working remotely, with an eye on energy consumption.
The home office desk lamp must provide the right light to achieve the necessary concentration and improve the performance of home office work.
LED desk lamps are professional solutions that are ideal for making home working environments more comfortable with low energy consumption even in the long term. They can be combined with decorative objects such as vases and knick-knacks to better match the style of the furniture and provide the desired light.
LED strips are versatile and easy-to-install solutions that create diffuse light: they can also be placed in tight spaces, above a shelf or behind a desk.

Need suggestions for designer and functional smart working lamps?