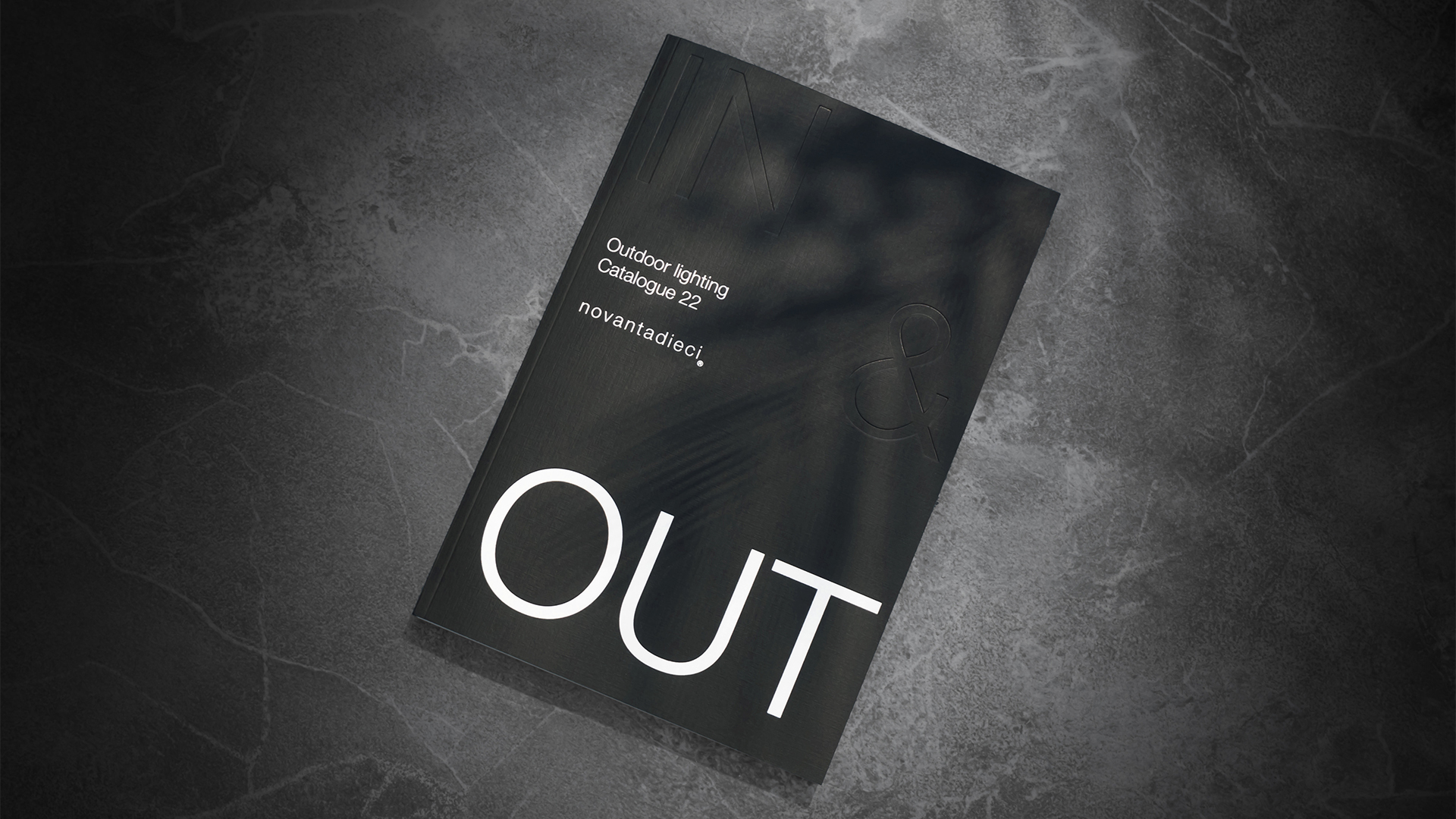 An innovative collection characterised by design and excellent quality; a close focus on current trends and attention to detail. Our production methods guarantee resistance and robustness while retaining artisan quality, allowing us to create items that are unique and unrepeatable. The perfect solution for terraces, walkways, gardens and any outside space that needs lighting. Thanks to our successful collaborations with renowned design creatives, 9010novantadieci has developed a series of products that illuminate and astonish.
Illuminate with our creativity and our tradition, a half-century history of a firm where Made in Italy has become a trademark. Astonish with our heart and our passion, ever-present in shapes and lighting creations that build our philosophy.
Discover all the new articles!
WALL LIGHTING
ART. 1090A-B-C - 1096D - 1098B - 1202A - 1205 - 1206
Pure forms that can be positioned on the wall thanks to its built in mount. Depending on how it is installed, light passes through its body, spreading either upward or downward, creating pleasant and diffused indirect lighting, that is extremely efficient.
CEILING LIGHTING
ART. 1094B - 1094C - 1203
Discreet and minimal designs with direct downward illumination, the new products protrude from the ceiling. Emmiting a soft, focussed light that is at the same time pleasantly enveloping, they are ideal for every outdoor space.
TOOTH
ART. 1114A-B by Maurizio Quargnale
Like an incisor, TOOTH sinks its body directly into the ground. Capable of adapting itself to various uses, this practical lighting system represents a new way of illuminating outdoor areas. A useful tool for designers looking for a practical solution to all those situations in which a discreet light, that does not draw too much attention to the light body, is needed to illuminate paths or light areas.
PASSO
ART. 1119 by Luciano Michele Lettieri
PASSO is a pathmarker that idealizes the shape of classic theatre lights. In addition to lighting the scene, it enhances the forms of those who fall within its radius of light. The concreteness of the BETALY® material that covers the structure is associated with the impalpable lightness emanating from its large luminous sphere.
CHARTA
ART. 1120 by Danilo De Rossi
This essential pathmarker is born from the intuition triggered by a simple gesture, almost a game: that of folding a sheet of paper and joining its edges, in order to create a hiding place for light. The result is a mantle that rests on the ground and protects the light source, emitting an enveloping luminosity.
LINEA & SEGNALINEA
ART. 1123A-B-C-D & 1124A-C
SEGNALINEA owes its name to the thin slit through which it projects light. Its minimal structure consists of a long solid block into which a luminous strip is dug, enhancing the surrounding space through defined areas of light. Its vertical bollard versions go by the name of LINEA and BILINEA.
DOUBLE SMALL
ART. 1103D
"There are two ways of spreading light: to be the candle or the mirror that reflects it".
Edith Wharton
DOUBLE SMALL is a lighting structures of bold and rigorous design, to meet a multitude of needs. A fusion of elegance and functionality.
OOLITE
ART. 1112A-B-C by Maurizio Quargnale
OOLITE translates the relationship between nature and design into light. A respectful dialogue between functionality and essential forms is expressed through this lighting element; manufactured in extremely tactile finishes and colours, it is fully integratable green spaces. The long and slender figure can be inserted in wide contexts such as in the outdoor areas along paths and patios, inside planters and gardens.
ANTHEA
ART. 1121 by Alice Barki
ANTHEA's shape takes inspiration from the world of plants; its sinuous curves create an elegant vertical twist. Its body diffuses a soft light that emanates from thin slits running along the entire edge of the bollard. One's path is illuminated by this natural spectacle.
HOUSE NUMBERS & LETTERS
ART. A-D
From A to D, for an infinity of combinations. These numbers and letters can be combined or used singularly, making your house-number a stylish welcome your home. Made entirely of BETALY®, they completely encapsulate the artisanal approach of 9010novantadieci.
Discover the new colour BETALY® SAND
9010novantadieci products created with BETALY® have excellent wear resistance along with a very high resistance to compression and atmospheric agents. They are also waterproof and
suitable for installation in outdoor areas. BETALY® has a coarse and concrete-like surface for a natural look, it is an element capable of adapting to outdoor spaces, conferring an impactful
touch of design. Thanks to the qualities of BETALY® and its craftsmanship, it is possible to have our products in different colours. Colour is added directly into the paste of the BETALY® products in order to achieve a durable result, designed for outdoor environments, with a wide choice of 6 finishes, including the brand new BETALY® SAND!