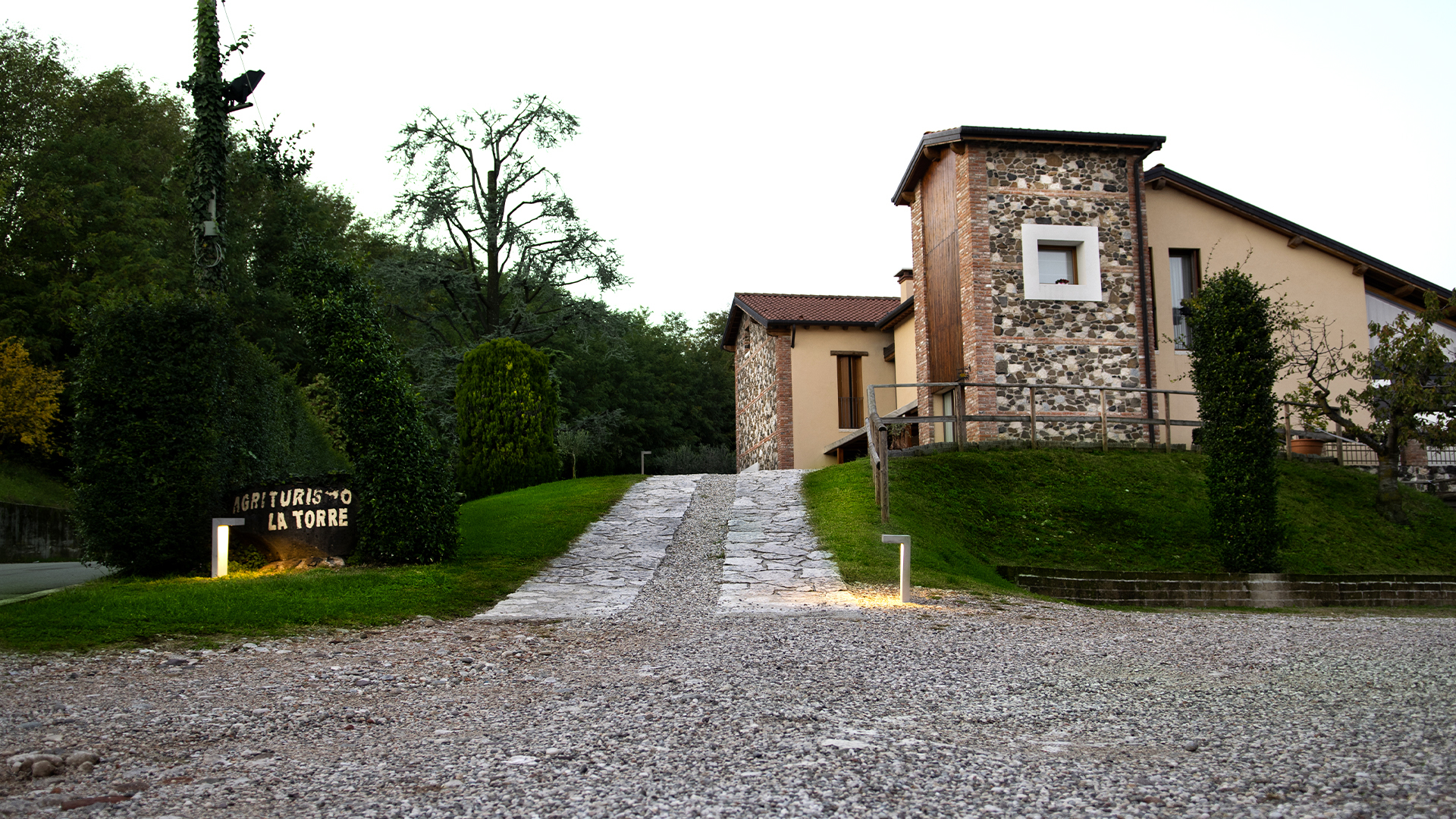 The lighting of a farmhouse plays a key role in generating a satisfying and elegant atmosphere. A careful choice of light sources can make the space more welcoming and enhance the ambience, making guests feel at ease.
Designer lights allow you to enhance a farmhouse in every aspect, interior and exterior, as well as increase the appeal of rooms in promotional materials. If you are looking for inspiration when it comes to agritourism lighting, take a look at the final result obtained by Agriturismo La Torre and Agriturismo Al Filò.
How to choose interior lighting for a farmhouse
Common areas of the agritourism, such as the reception, bar and dining areas, require appropriate lighting to create an inviting atmosphere. The use of focused lighting sources, such as table lamps or pendant lights, can help create visual points of interest. Uniform lighting from above can make farmhouse spaces cozy and comfortable for guests. Retro lamps are suitable for those holiday farms that want to evoke that comfortable and traditional 'once upon a time' air that takes us back to our roots. A farmhouse with a strong natural feel should aim for lamps made of eco-friendly materials such as CRISTALY®, which are of a rigorous quality and can arouse special feelings thanks to their intense light.
How to light the rooms of a farmhouse
Comfortable, practical and relaxing lighting in rooms is essential to ensure a pleasant stay for guests. To ensure the lighting efficiency of agritourism, it is necessary to ensure that the lighting is well distributed, with light points for every important area of the facility. This ensures that guests have the right lighting for different activities during their stay.
In order to create a cozy atmosphere in the rooms of the agritourism, highlight the furnishings and enhance the spaces, it is advisable to install warm, soft lighting.
It is advisable to install warm, soft lights inside a farmhouse, which create a cozy and relaxing atmosphere. The use of spotlights, recessed lights in the floor and decorative lights can create an atmospheric and inviting atmosphere that will make an overnight stay even more enjoyable.
Bedside lamps with adjustable light can be placed in bedrooms, allowing guests to customize the ambience according to their preferences.
How to illuminate farmhouse furnishings
Lighting can play a significant role in enhancing farmhouse décor. By using accent lighting, decorative elements such as works of art, design objects or special architectural features can be highlighted.
Direct lighting on objects creates a visual focal point and draws guests' attention to certain features of the agritourism. In addition, the use of soft lighting or indirect lighting can help create an elegant and refined atmosphere.
To enhance the details of paintings and architectural works, it is advisable to use direct lighting. Direct lights, such as spotlights or LED projectors, allow you to focus the light beam exactly on the painting, highlighting details and artistic features. You can install the lights directly on the ceiling or use special wall brackets to position them optimally.
How to illuminate the exterior of a farmhouse
Outdoor lighting plays a crucial role in welcoming guests. To create a cozy atmosphere, it is advisable to use warm lights along pathmarkers and in entrance areas. In addition, to highlight the surrounding landscape, outdoor markers can be set up, which will help create an atmospheric ambience during the evening hours.
It is also important to illuminate outdoor focal points, such as architectural elements, stone walls or characteristic façades. Using spotlights or recessed lights to highlight these elements helps to create a striking visual effect. The use of ambient lighting, such as recessed lights in the floor or lights hidden among plants, can help create an enchanting atmosphere.
LED lights for farmhouses
It is advisable to use LED lights, as they are energy-efficient and offer a longer lifespan than traditional incandescent bulbs. In addition, LED lights are available in different colour temperatures, allowing you to create the ideal atmosphere to increase the comfort of guests.
Smart technologies offer many opportunities to improve the lighting in a farmhouse. The installation of smart lighting systems allows the lights to be controlled via a smartphone or tablet, providing greater comfort and convenience for guests.
The use of dimmable lights in common areas makes it possible to adjust the light intensity according to guests' needs and preferences. For example, soft light for a romantic atmosphere or brighter light for events or meetings.
Intelligent lighting systems make it possible to adjust the light intensity within agritourisms to create preset lighting scenarios and even automate lighting according to the time of day or guests' activities. This not only simplifies lighting management, but also contributes to energy savings and sustainability.
9010 creates unique, design-led lighting proposals that can enhance farmhouse spaces and increase comfort in an elegant and refined manner.