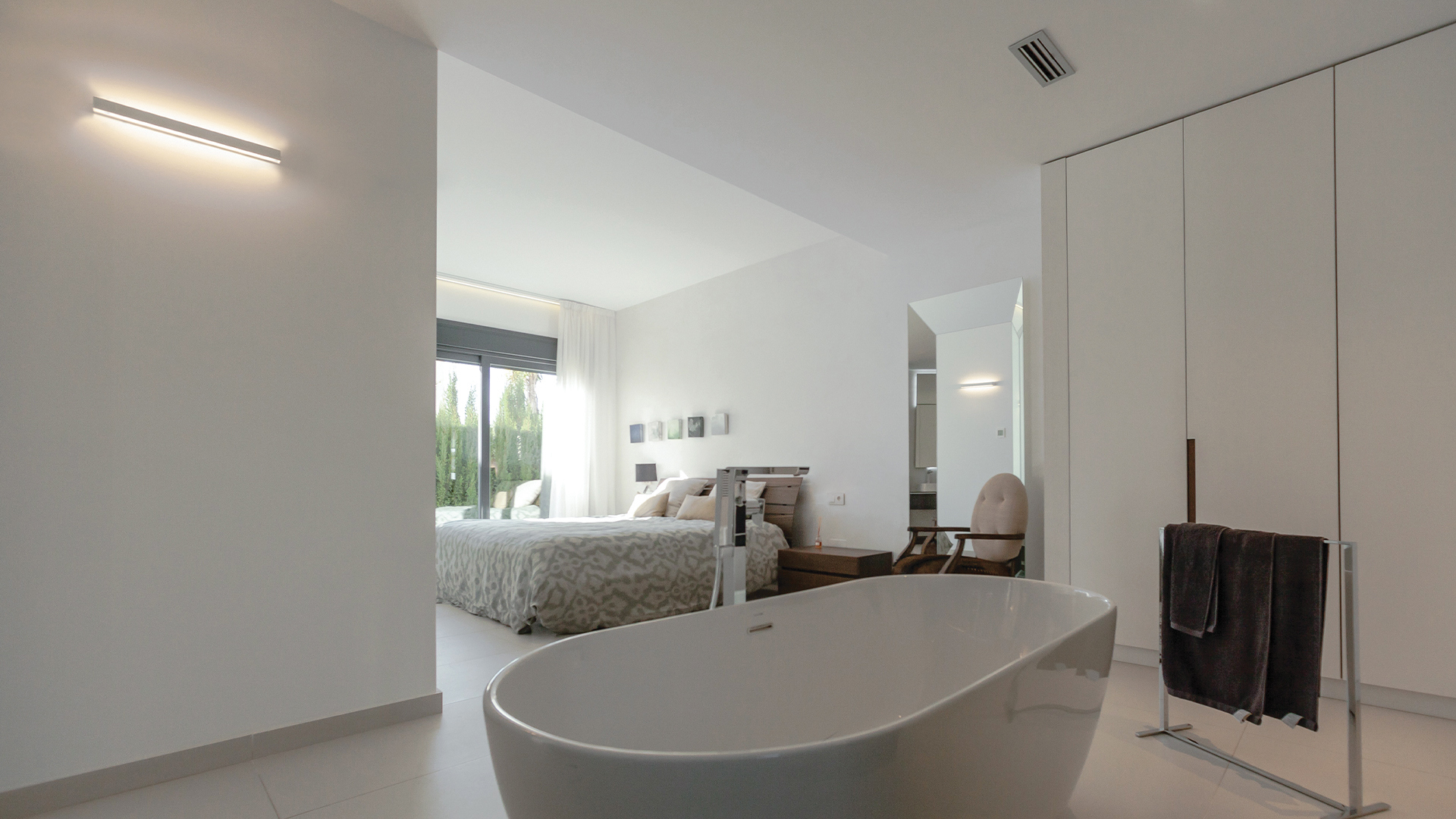 Wall lights are fantastic solutions for lighting your home in a soft and elegant way, enhancing the stylistic choices of the apartment. Wall lamps combine beauty and functionality and help generate a refined style in home environments.
However, in order to make the most of their possibilities and be comfortable, they must be placed in the appropriate way, especially when it comes to the bedroom.

How to illuminate the bedroom with wall sconce
Wall lights are a very suitable choice for lighting our bedrooms while paying attention to energy consumption. Thanks to their small size, they are also easily adapted to low-ceilinged rooms and hallways. But what is the best way to choose a wall lamp?

First of all, you need to choose wall lights in line with the style of bedroom decor.
If you have to put in multiple wall lamps, you should be careful to place them at the same height to respect some consistency in the arrangement. If you intend to use wall lights to produce accent light, pay special attention to the object to be illuminated rather than the height of the walls.

9010 wall lights are handmade entirely in Italy in a variety of materials, from Ceramic 9010® to CONCRETE Indoor 9010®, and can be customized to suit the style of the room.
How to illuminate the bedroom with wall lights?
Wall lights are wall lamps that embody appreciable elegance, helping to fill in the gaps on the walls, ideal for lighting bedrooms with reduced height and space in a subtle and elegant way.
If you intend to use it as the main light for reading or computer work, you might prefer a wall sconce that gives off brighter, more focused light. On the other hand, if you want to create a cozy atmosphere, you may opt for a wall light with a more diffused light or with the ability to adjust the intensity. If you want to generate a soft atmosphere in the room, you can opt for a wall sconce with soft light. If, on the other hand, you need strong, bold lighting, it is better to opt for a wall sconce with a strong, direct light.


Wall lights
intended for
bedrooms
can be used
in place of bedside abat-jours:
since they are placed on the wall, they allow light to radiate over a wide beam without taking up valuable cabinet space, contributing to pre-sleep relaxation. The lamp above the bed can be installed on either side of the cabinet, above the bedside table or near the headboard area, clearly so that it does not cause a nuisance by taking into account the movements you make while sleeping or when reading in bed.
The
wall lamp
suitable for your bedroom should fit the style and decor of the room for sleeping. You can opt for a modern, classic or more artistic design, depending on your personal taste.
These devices offer a dimmer or adjustable light to generate a relaxing and cozy atmosphere in the bedroom.
A wall lamp with a built-in switch, remote control system or via smartphone makes it intuitive to turn it on and off at will even without physically touching it.
Bedroom wall lights height: where to place them
Wall lights represent both convenient lighting systems and graceful, elegant pieces of furniture. But, to express the best of their possibilities, they must be placed appropriately. At what height should wall lights be placed in the bedroom?
Wall lights should be placed in the bedroom so as to illuminate the contents of the room evenly, but in relation to the needs of specific areas. In general, it is recommended that the wall light be placed about 30-40 centimeters above the headboard to prevent the light from being too direct and glaring.
The light facing the bed should be dim so as not to disturb sleep, while the closet will benefit from more focused lighting. In general, keep in mind that wall lamps should be installed above our eyes (on average at a height of no less than 1.70 meters).
If the ceiling is 2.7 meters high it is better to install the device around 1.9/2.2 meters, while if it exceeds this height we can raise it another 10 to 20 centimeters. Generally, the recommended heights for wall lights are established by convention in relation to the standard height of ceilings (270 centimeters) or doors (210 cm).
A good rule of thumb is to raise wall lights at least six feet and eighty centimeters above the floor, while remaining within six feet and twenty centimeters.
The height at which to place the wall lights also depends on the specific type of use you intend to make of them. For example, if we want to use wall lamps to enhance paintings or elements of the furniture, the wall lights should be placed above or below its height to make sure that the light is directed to the desired spot. If it is to be installed on a wall that has a door, the diffuser should produce a point of light at or just below its height.
LED wall lights for bedrooms
LED wall lights are popular sources of light for the bedroom because of their high energy efficiency. They consume less energy than traditional incandescent bulbs, thus reducing utility bills and having a much longer lifespan than traditional bulbs. They also remain relatively cool to the touch, so you don't run the risk of overheating your bedroom.
You can choose from minimalist, modern, classic or more decorative style wall lamp models, depending on your personal taste and the look you want to achieve in your room.
For more than 50 years, we at 9010 have continued our commitment to developing innovative lighting systems based on non-toxic and environmentally friendly materials. Our products can be made in a variety of colors, are reminiscent of natural hues, and respond effectively to the specific needs of any decor.