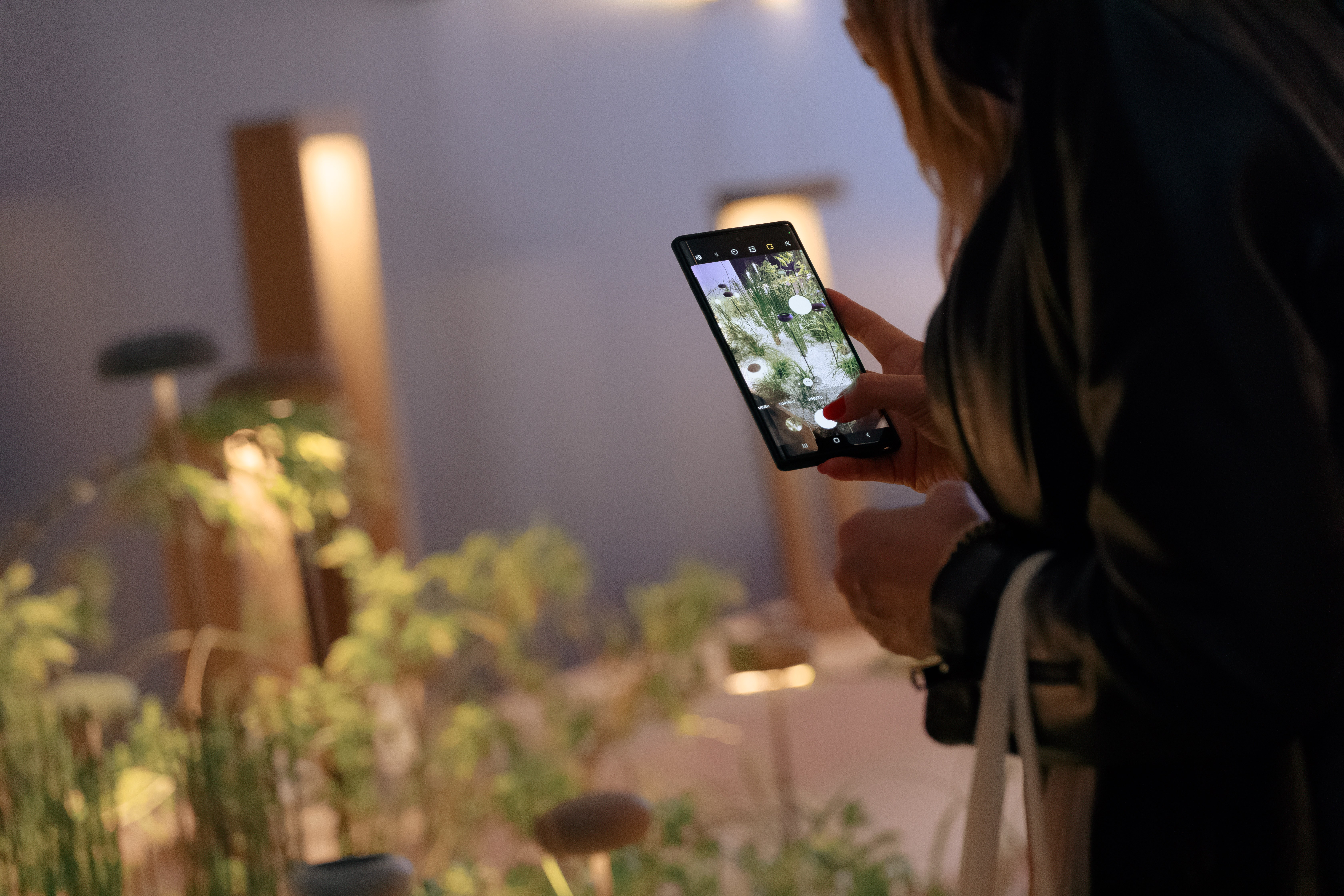 We asked Arthur, who took some shots of our stand at Euroluce 2023, to answer some questions about the collaboration with 9010novantadieci, and to tell us something about his reality.
Who is Arthur Buoso?
My name is Arthur Buoso and I'm a portrait fashion event photographer based in Milan, but originally from Padua. After graduating in Photography and New Media in Florence, in 2022 I started working as an assistant and lighting technician in a photographic studio, ending up becoming more and more passionate about the world of lighting. When I was asked to document the 9010novantadieci stand at the Salone Internazionale Del Mobile, I immediately thought that the experience could prove invaluable for my studies on artificial light: I wasn't wrong!
Although I currently reside in the grey, monochromatic Milan, my palette has nonetheless remained as flamboyant as the green Euganean Hills that have seen me grow up, protagonists of endless walks and as many photographic experiments. I would summarize my photographic gaze as queer: iridescent, non-conforming, often romantic and always, irreparably colorful. My works are visible on Instagram, where you can find me as: @androgino.alchemico
What is the idea behind the photographic project?
My goal was to document the 9010novantadieci stand during the first day of the Salone Internazionale del Mobile, in Rho Fiera, at the same time as Milan Design Week. 9010novantadieci, whose stand was located in Pavilion 15, was part of Euroluce: the section of the Salone dedicated to the world of indoor & outdoor lighting. Later, I moved on to portray the stand of Holcim Italia, supplier of 9010novantadieci , at the SuperStudioPiù event in via Tortona 27, at the same time as the Fuori Salone in the Tortona Design District.
What was the impression of 9010novantadieci? What struck you most about our reality?
It was enough for me to take a quick look at the website to be enraptured by the brand identity of 9010novantadieci - a reality that has its roots in a family tradition and which at the same time does not give up on being modern, elegant and highly studied. His clayey and at times ethereal palette immediately reminded me of that of my favorite painter: the Bolognese Giorgio Morandi, a leading exponent of Italian Metaphysics of the early twentieth century. Morandi was in fact used to portray still lifes in which everyday objects - such as carafes, cups, glasses and other crockery - were painted with earthy colors such as alabaster, cream, cinnabar green, sienna and ocher. Photographing products such as LEVICO, ANTHEA, OOLITE and MICROCOSMI was equivalent to immerse myself in the atmospheres of my beloved Morandi - an artist who was able to masterfully draw inspiration from nature and domesticity, two central themes in the aesthetic reflection of 9010novantadieci.
What was the most complicated part to develop? Which was the most interesting?
The most complicated phase was certainly moving around the city, between one location and another during the Design Week: it was in fact my first Salone Del Mobile, an event that for one week a year usually transforms Milan into a frenetic street - go to 'insiders' of Italian Design. As an 'adopted Milanese' who has been living in this city for a relatively short time, I admit that I was initially overwhelmed by the traffic; fortunately, the enthusiasm for the activity commissioned me was able to quickly overcome the stress, giving me back a splendid memory of the day despite everything! The most interesting part of the photographic report turned out to be the chance to meet Alice Barki , one of 9010novantadieci's designers, visiting the Holcim stand at SuperStudioPiù. Photographing her next to her ANTHEA - exhibited there - made everything even more engaging and emotional; getting to know the artist is perhaps the best way to faithfully tell his work, in words and images.