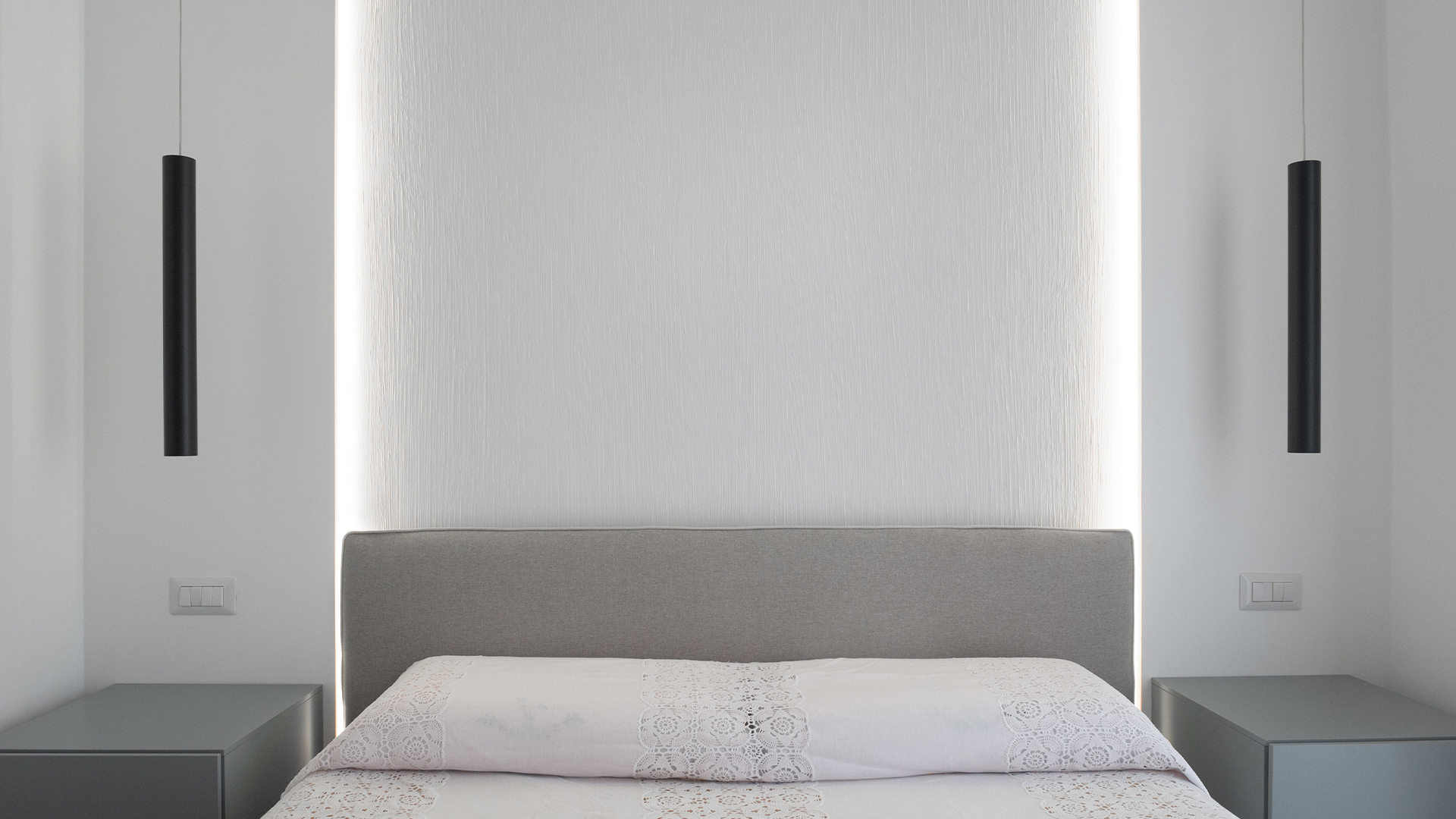 Interior lighting is a very important aspect of living space that is very frequently overlooked. In fact, lighting is essential to make an environment comfortable and it has a profound effect on a person's physical and psychological well-being.
Therefore, it is important to understand how to optimally illuminate every space in your home.
Here we will take a closer look at several ideal solutions for the bedroom, providing some useful advice.
Original lighting ideas for a modern bedroom
A bedroom's lighting has to be functional but also create a cosy environment.
Before purchasing lighting fixtures, it is essential to consider some specific aspects: the furniture arrangement in the room, the room size and shape, utilized colours, and the furniture style.
This means that the lighting should be able not only to illuminate, but also to suit its purpose. A bedroom, specifically, is a room that lends itself easily to different uses and requires different illumination sources.
Illumination can be provided by many different light sources. Let us discover them.
Pendant lamps
Hanging lamps descend from the ceiling and spread light towards the centre of the room. They are amongst the products most likely to be found in a bedroom because they are easy to use and provide good luminosity in any space.
There are different types of pendants, in different shapes and with various levels of illumination.
The brightest ones have no lampshade and a good number of bulbs but they are not always the ideal choice within a bedroom. To overcome this, it is nowadays more popular to install 'dimmers' or 'dimmer switches', i.e. switches that allow the regulation of the light intensity.
If this is not available, a good trade-off is to direct the light bulbs upwards so that the luminosity comes from the refraction and subsequent diffusion of the reflected light on the ceiling, assuming the ceiling is not beamed, or at least is white.
Wall lights
Wall lamps or wall sconces are the most widely used lighting points in small rooms, especially in hotels, as they are not bulky and they have the benefit of enhancing the walls on which they are installed.
With their design style, they provide the right intimacy and comfort to the bedroom and they are ideal for those who want to not only illuminate the room but also decorate the wall.
The light can be directional and it is important that they are installed on a suitable surface.
Many wall sconces produce almost scenic effects: thanks to the wide variety of shapes (angle, cylinder, etc.) it is possible to direct the light towards the ceiling or a specific object.
Table lamps
Table lamps can be placed on the desk, bedside table or any useful surface you want to illuminate, such as the dresser. They provide sufficient and often decorative lighting, especially in the case of lamps placed above the dresser.
If used for reading in bed, they must be able to emit a relaxing and calming light, without straining the eyes.
In this case, a lamp with indirect light can provide the right illumination without excessive dazzle.
Floor lamp
Floor lamps or standing lamps are designed as decorative objects. They provide light that can be supportive of the general lighting in the bedroom. In the 1980s they were often the only lighting in the bedroom as their minimalism suited the style of the time. Today, they no longer replace pendant lighting but are only a complementary support.
Recessed lighting points
Recessed lights are important design elements that can be installed in any room: in bedrooms they help to make the atmosphere more charming. Recessed spotlights, having the light source deeper than classical ones, don't dazzle and create lighting with a pleasant concealed effect and small constellations or islands of light in the bedroom.
They are the most versatile lighting points of all: they can be ceiling-mounted, wall-mounted, ceiling-mounted, walkway-mounted. They never cease to amaze and can create a wow effect in any environment. In bedrooms with a private bathroom, the recessed in 15 mm spotlights are the ideal solution, as they can be positioned in humid places (such as the bathroom) and in reduced spaces. Equipped with a unique fixing system, they provide wonderful LED light to your bedroom bathroom.

LED strips
In order to bring a more trendy touch to your bedroom, you can also choose to highlight the headboard by lighting it with simple LED strips. Flexible and easy to install, they can be placed along the edge of the headboard. Thanks to their ability to change colour, they can give the room an ever-changing look. In addition, the light profiles can also be installed on the ceiling, at an angle between walls or wall and ceiling, and if equipped with a dimmer, they allow the light intensity in the room to be adjusted.
Considering the different types of light sources, here are some tips for lighting the bedroom in a balanced way.
Tips for bedroom lighting

In order to achieve proper bedroom lighting, it is recommended to choose several lighting solutions and to realise a lighting design project without forgetting the fundamental importance of natural light.
In fact, before choosing light sources, it is important to first evaluate the brightness of the room without artificial sources: windows, balconies and terraces are potential access ways for the sun's rays. Sunlight and artificial light must therefore be well balanced.
It is important to place switches and light sources according to the layout of the furniture, paying attention to placing lamps near the bed with easily accessible switches. When choosing lamps and light fittings, it is also important to consider their size, which must be in line with that of the space to be illuminated.
Colours can be a source of creativity but it is essential, especially in the bedroom, to choose soothing tones and to opt for warm, subdued lighting. With a dimmer you can adjust the light according to the time of day. In the wardrobe, lighting is also crucial. The light in the bedroom may not be enough: the best solution is to turn to LED lights that are easy to apply and very flexible.

9010novantadieci offers a wide selection of LED lights to match with any style, from modern to minimalist. All of our lighting products are designed and handmade in Italy, in Nove, a town famous for its ceramic manufacturing tradition.
For over 50 years, we have been carrying on our country's tradition with passion and dedication, paying close attention to innovation and the protection of the territory and the people who work with us.
For us, innovation and sustainability coexist; without one, the other cannot exist. We work constantly to improve the technologies and materials used in order to reduce the impact of the production cycle on the environment: choosing non-toxic materials, reducing emissions, paper and packaging consumption.
In addition, thanks to the completely handcrafted production, we prevent waste and at the same time we provide the customer to customise the design lighting products.