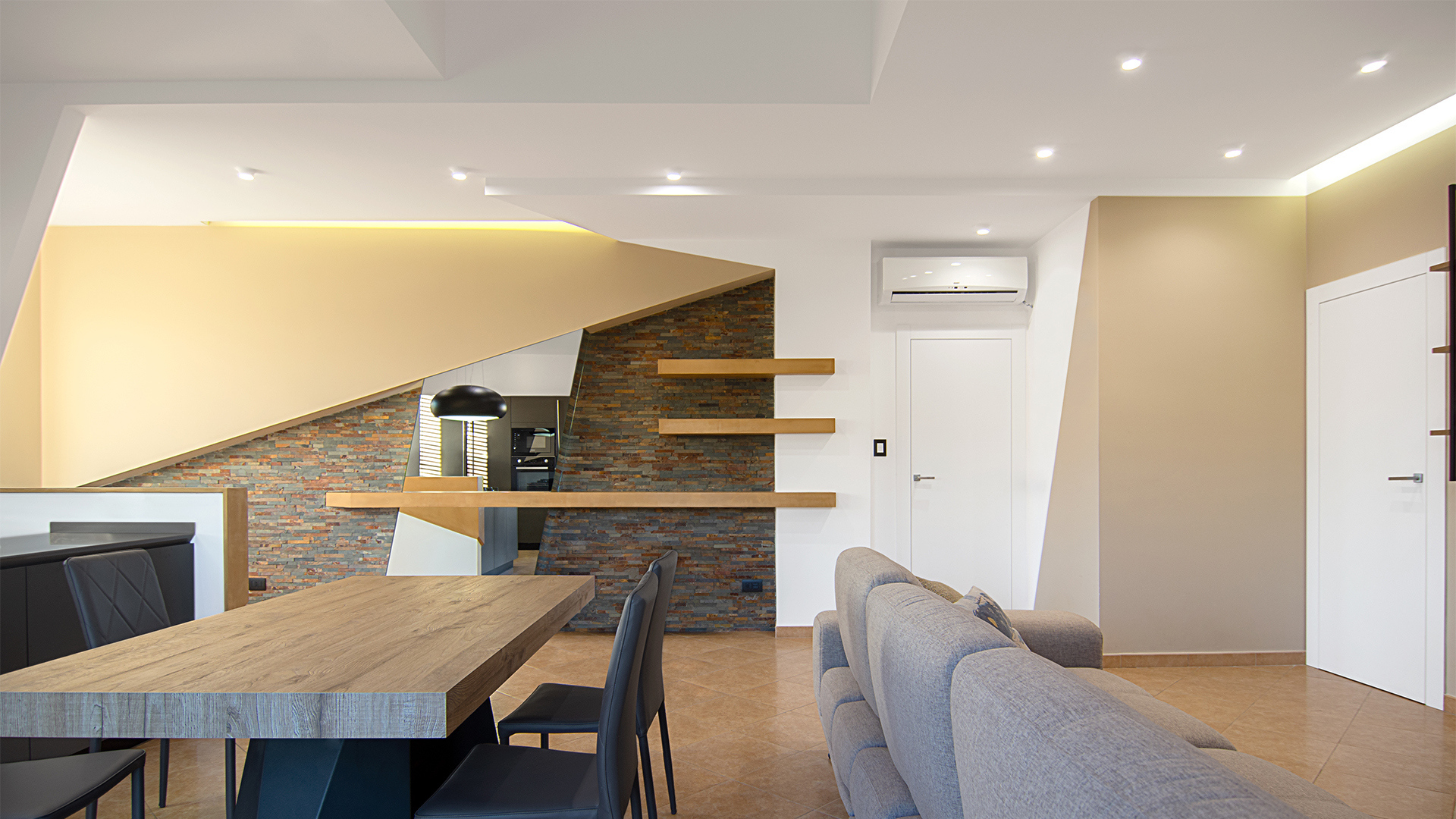 The living room is the heart of the home: the place surely most experienced, but also among the hardest to furnish. The design of the environment, from the furniture to the lighting, requires attention and detail, as it can have many purposes: living room, lounge, dining room and relaxation area. It is also extremely important to pay attention to the design and the style of the home.
In order to be perfect, living room lighting should ideally co-exist with three different combinations of light:
Diffuse light: this is general lighting, which has to highlight the most relevant points;

Ambient light: it is not essential but useful for lighting and it helps to create a more attractive and unique living room;

Support light: it illuminates specific points in the room as an additional design element.

The three different light sources should balance perfectly and this can only occur by combining different light sources.
7 exclusive ideas to illuminate the living room
One light point protagonist
In the living area, avoiding excessive use of particularly sophisticated floor, pendant and wall lights is essential. Therefore, it is necessary to decide on the main light point: a distinctive-looking design makes the living room original, but if all light sources differ in style, the room will be experienced as chaotic.
Illuminating the living room using furniture
Some furniture pieces have built-in lighting systems that add to the existing lighting.
It is important to consider this type of furniture as well, because the lights also have to be in line with the whole room. An elegant solution is to use LED pathway lights which create an inspiring and relaxing atmosphere.

Planning the lighting in the TV area
The living room area is often divided from the kitchen by a bookshelf or a TV wall and a sofa.
A good idea is to install design wall sconces so that they fill and create an intimate and elegant atmosphere. The advantage of wall lights is that they don't occupy floor space, and they can provide direct and indirect light as required.
Lighting the open space
If the living room and kitchen are one space, it is important to arrange the lighting in a way that does not cause eyestrain and to provide as natural an atmosphere as possible. This is possible by using ceiling spotlights or LED profiles in the crown perimeter, which make the atmosphere pleasant and cosy.

Lighting sofas and chairs
The living room area with sofas and armchairs should have light sources such as LEDs or recessed lights in the walls in the same paint colour or alternatively with coloured compartments. At all costs, med-height lights that can directly hit the eyes should be avoided. If there is a coffee table or sideboard, a design table lamp could be used instead, which adds a touch of originality to the living room.


Lighting the dining table
A popular solution is to use pendant lamps placed in the center of the table, that offer direct lighting, enhancing the space. An alternative to pendant lamps is the living room lamp: the light must come down in a direct way, keeping 120 cm from the table.
Illuminating paintings and murals
If there are paintings and artworks in the living room, there is probably also a need to highlight them through effective lighting. You can install wall mounted recessed light in the wall or next to the top of the fixture. If you also want to illuminate the shelves, you can use spotlights, in sequence and at a distance, above them.
What to avoid when lighting a living room
The following are mistakes to avoid when deciding on living room lighting:

Using only a single light source;

Adding spotlights without first having a well-defined lighting plan;

Using color lighting on the dining table;

Leaving the table area in shadow;

Not using atmosphere lighting;

Over-lighting the room with different light sources;

Not creating light and shadow effects;

Combining white and warm light with a dimmer;

Blocking natural light with opaque furniture and curtains.
If the living room is small, it is necessary to use diffuse lighting that makes clear boundaries, paying attention to the areas to be enhanced and where to point the light sources.

9010novantadieci offers a wide range of lighting to suit any environment and style. Our lighting products are all designed and handmade in Italy, precisely in Nove, a town that for centuries has based its tradition on the production of artistic ceramics. For over 50 years we have been passionately pursuing the ceramic handicraft tradition.
Every day, knowing that our actions can impact the environment around us, we carefully choose sustainable raw materials and cutting-edge technology to reduce our environmental impact as much as possible. This is possible thanks to our completely handmade process, which not only allows us to protect the environment but also to meet our customers' needs with fully customisable products. Thanks to our experience and strong local identity, we are leaders in the manufacture of designer lighting.