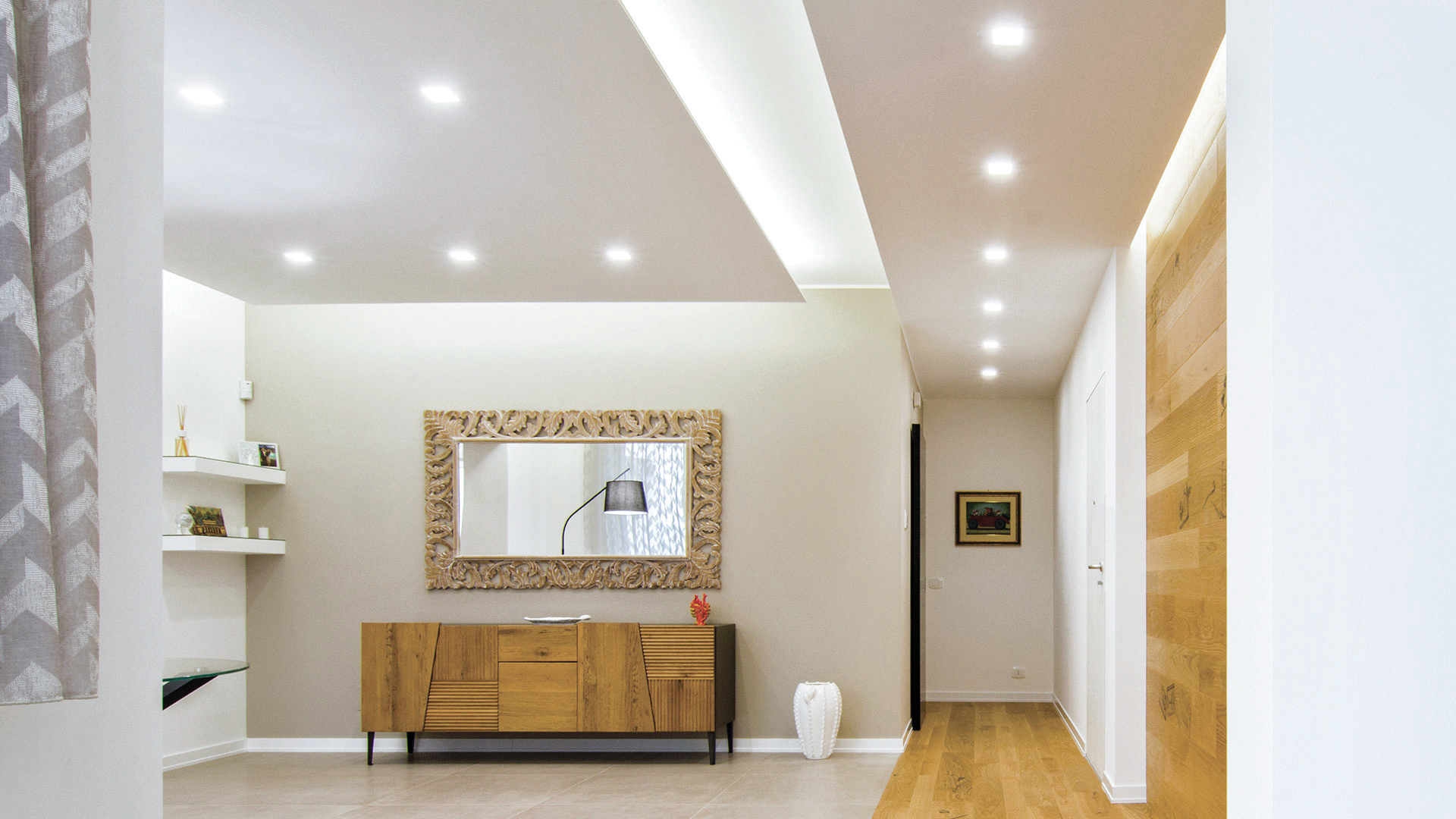 Adopting a suitable plasterboard ceiling lighting can make the home more welcoming both during the day and in the evening.
First of all, room lighting has to consider the needs of the space in question. For example, the bedroom needs adequate lighting towards the bedside table and wardrobe areas; otherwise a soft light that does not excite too much attention and does not disturb sleep is fine. Warm light lamps that illuminate without being glaring are ideal for creating a calm and relaxing atmosphere, while cold light lamps help to keep attention and are suitable for the washbasin, make-up and bath areas.
In the kitchen, non-aggressive but focused lighting is needed in the areas where we need to pay special attention. In the living room, light should be focused on the TV or dining area.
There are many solutions to adequately illuminate a false ceiling: recessed spotlights, linear profiles, and by choosing LED light fixtures we know that they guarantee good savings in electricity consumption without affecting the quality of the lighting.

False ceiling: how to achieve diffuse light with recessed spotlights
Recessed spotlights for plasterboard ceilings are easily inserted into the support and blend easily with the surface material. In this way, the spotlight does not jump out and the lighting it emits is enhanced.
There are models of recessed spotlights of different shapes: round, square, rectangular and more. 15mm recessed spotlights are suitable for bedrooms, living rooms, corridors. This patented and exclusive 9010novantadieci lighting system, being the only model on the market that can be installed in just 15 mm of ceiling space, perfectly meets the need for discreet but effective lighting and in renovations and similar situations.
Spotlights are practical and elegant lighting systems to ensure proper illumination of domestic spaces, but it is important to remember that they are not all the same. They can be produced in different materials, shapes and sizes.


How to install LED spotlights in the ceiling?
LED spotlights are optimal solutions for lighting the home: they produce a much brighter light than the old halogen models, last longer and with lower power consumption, and enhance the sharpness of colors. In general, it is advisable to insert at least three spotlights per wall, but obviously this data may depend on the power of the spotlight, the aesthetics of the room, or the type of light that you want to create.
Rectangular spotlights can be arranged in a linear way following the architectural lines of the environment, using them to create more complex shapes. The geometric arrangement of spotlights helps to stimulate the perception of sought-after and evocative shapes designed to catch the eye.
Naturally, the type of wall in question also makes a difference: in the case of mirrored walls, for example, a given arrangement must be chosen so that there are no points of discontinuity between the various spotlights. In this way we can achieve the right combination of light and shadow to generate an attractive effect on the illuminated rooms.
Spotlights can be distributed according to different schemes:

Simple, regular and offset grids;

Grids of the same shape and intensity (to produce a basic and balanced effect);

Grids of different sizes, which can be combined to create alternate groups to cover all areas to be illuminated.
Indirect lighting in the plasterboard ceiling with LED profiles
Indirect lighting allows to illuminate the environments in a reflected but equally homogeneous and pleasant way, solving the problem of shadows. In this way, it is possible to create optimal lighting for living areas, bedrooms and kitchens, contributing to the energy savings of the home thanks to the efficiency of modern LEDs.
LED profiles allow to generate this type of lighting, making living areas and living areas comfortable and welcoming. Angled, recessed, ceiling-mounted, the 9010novantadieci profiles also have a hidden design, which in addition to easily integrating into any type of plasterboard ceiling, can also be dimmable, if equipped with drivers. With this type of lighting, the furniture is highlighted and the rooms appear even larger and welcoming.

Why choose LED lighting for the plasterboard ceiling
Plasterboard ceiling lighting makes the home more welcoming and pleasant even in the evening hours, encouraging relaxation. Ceiling lighting with LEDs is a strategy for lighting rooms in a versatile and fulfilling way. In addition, LED lights are available in different temperatures and colors, you can choose between warm, cold and neutral light.
Sustainability is another point in favor: LED lights consume little, last longer than traditional bulbs and don't overheat.

9010novantadieci is at your disposal to provide you with class-suitable spotlights for your needs. For over 50 years we have been producing innovative lighting systems with a focus on tradition and the environment. Contact us now and find out how we can help you!