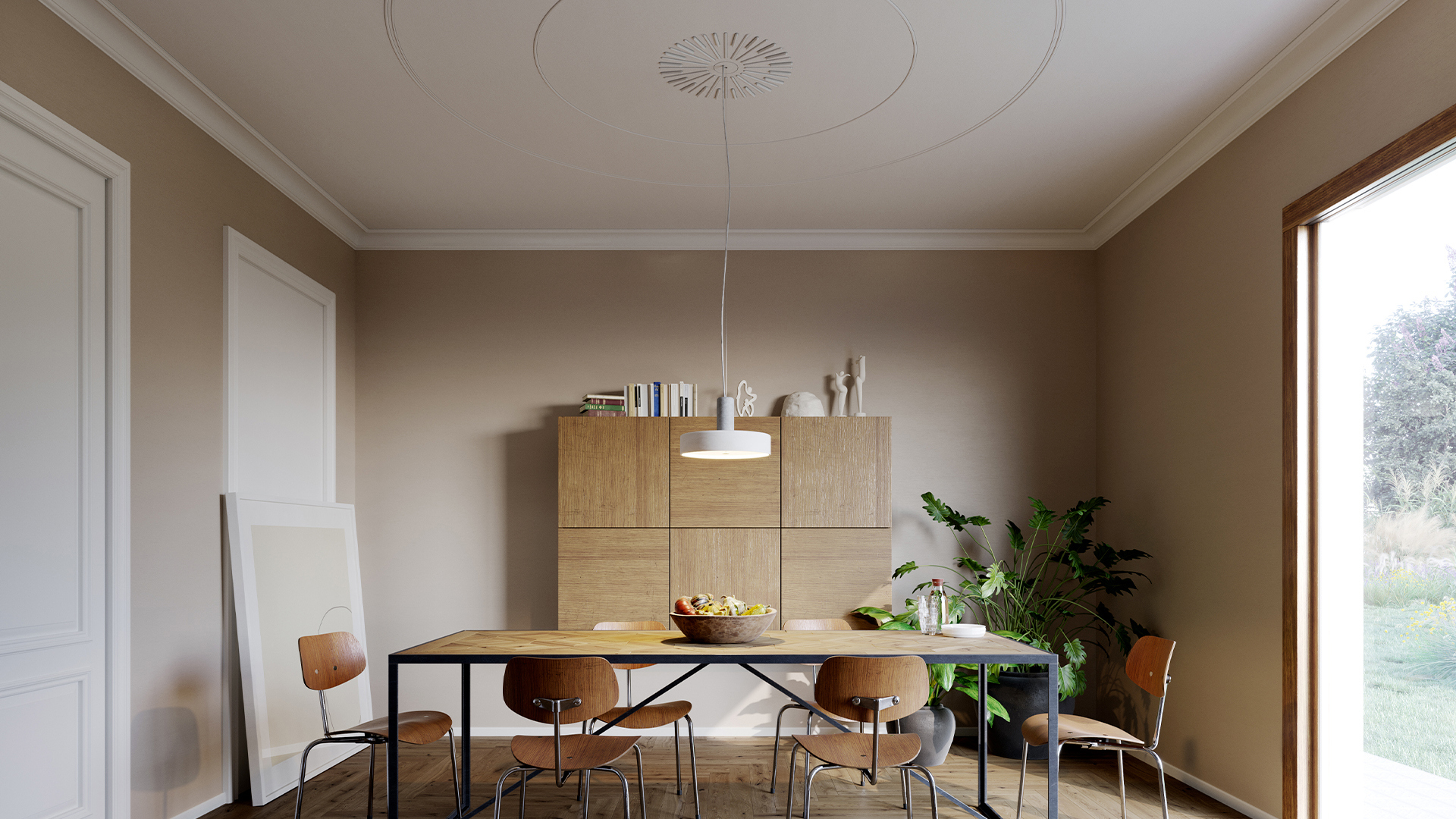 A perfect lighting system considers the furnishing style and purpose of each room, so it is effective and non invasive.
How to choose the right lamps for the home?
Each room needs a different lighting source depending on the room's purpose. A dining room for example requires an important lighting fixture that can enhance it. On the other hand, spotlights for bathrooms are generally smaller due to their narrower dimensions.
For bedrooms, we opt for elegant lighting solutions that give off soft light without annoying the guests.
LED recessed lights are perfect for providing rooms with adequate lighting in a discreet way: the fixture's body is perfectly concealed in the wall and allows the light emitted by the LED devices inside to shine through. In this way, they ensure effective lighting with low energy consumption, easy installation and in keeping with modern, elegantly styled rooms. LED bulbs have a longer lifetime than incandescent filaments and are more environmentally friendly than other types of lighting. Cold light (not necessarily white) and warm light can be chosen, and the light can also be modulated through specific controls.
LED strips make it possible to set up decorative lighting in specific spots or to illuminate the whole house by combining several strips with a single light point. They can be used to illuminate specific areas, such as shelves, television surrounds, a kitchen worktop or a specific piece of furniture, as well as the entire room.
Ceiling lights are suitable solutions for bringing adequate lighting to rooms lacking the space to contemplate bulkier pendants. They are a very practical solution thanks to their ease of installation, small size, low power consumption and versatility of use. These practical lighting systems help to generate an elegant atmosphere in the home. LED ceiling lights make it possible to bring light into even narrow rooms or low ceilings.

How to choose the right lamps for every interior design style

According to the type of light you want, you can choose lamps that emit:

diffuse light that surrounds the whole room;

direct light as a focused light beam;

indirect light that is reflected downwards from the ceiling, resulting in soft lighting.
According to the style in which they are made, we can opt for lamps in the:

modern style, which present regular lines and the use of materials such as metal and glass or concrete;

vintage style, which present classic decorative shapes and the use of materials such as copper;

minimal style, which present rectangular shapes and neutral colours;
It is also important to consider the existing furniture in the rooms. If there is a great deal of furniture, it is best to opt for a discreet lighting solution that is not 'intrusive'. If the space covered by furniture is small, we can install a pendant lamp that will become the star of the room.

Lamps for the nordic style
Lighting a home in the Nordic style means choosing carefully lamps with an essential design capable of creating a cosy atmosphere. Scandinavian design prefers lamps with linear and precise shapes to be combined with pastel and white furniture.
If you would like to add an extra touch of elegance to the architecture of your space, you can also choose a pendant lamp with simple and linear shapes, also suitable for styles other than Scandinavian.
Wall lamps made of CRISTALY® produce a soft downward light that is very suitable for providing soft illumination for the bedroom to facilitate reading.

Lamps for the modern style
Functionality and essentiality are the keywords belonging to the modern style. Furnishing a home in modern style means choosing bright materials in neutral or dark colours without excessive decoration. This combination is also reflected in the type of lighting to be adopted. 9010 offers a wide range of LED lamps that are perfect for lighting contemporary rooms:
Modern wall sconces are ideal solutions for adding a touch of style to your home without detracting from its modern soul. They are available in natural, warm or cold light versions to meet the needs of every room. They are beautiful and functional lighting systems suitable for contemporary indoor environments.
Modern ceiling lights with simple and graceful shapes provide valuable yet relaxing lighting for all rooms in the home.
Modern recessed wall lamps are attractive home decorations that enhance the wall covering, creating suggestive light effects.


Lamps for the minimal style
Minimalist style lamps highlight linearity through the use of elementary geometric shapes and employ basic colours to invoke order and simplicity.
Minimalist style lamps aim to generate a timeless beauty that catches the eye without being cumbersome, an amalgam of originality and innovation.
Minimal style ceiling lights produce a soft downward light suitable for relaxation rooms. They are suitable for producing natural light and can also harmonise with other lamps, such as floor models, to complete the room lighting. Opting for larger ceiling lights equipped with more powerful LEDs makes it possible to illuminate work areas, offices and areas that need a lot of attention more effectively.


Lamps for the urban industrial style
The industrial style has a vintage and contemporary soul at the same time that is very much appreciated by those seeking to create a retro atmosphere in their homes. This style prefers the use of vintage objects and reclaimed furniture. In this sense, the illumination of recessed ceiling spotlights can help highlight the charm of the furnishings.
Produced in CRISTALY®, a hypoallergenic and non-toxic material, 9010 spotlights blend effectively with spaces with a simple and robust aesthetic, where black, white, grey and brass colours prevail.

Choosing the right lamp for every interior design style isn't easy. The lighting products of 9010novantadieci are suitable for multiple furnishing styles.
For over 50 years, we have been carrying on the tradition of our region with passion and energy. We use non-toxic and environmentally friendly materials to achieve exceptional results. We help our customers to tailor their products to meet all their lighting needs.