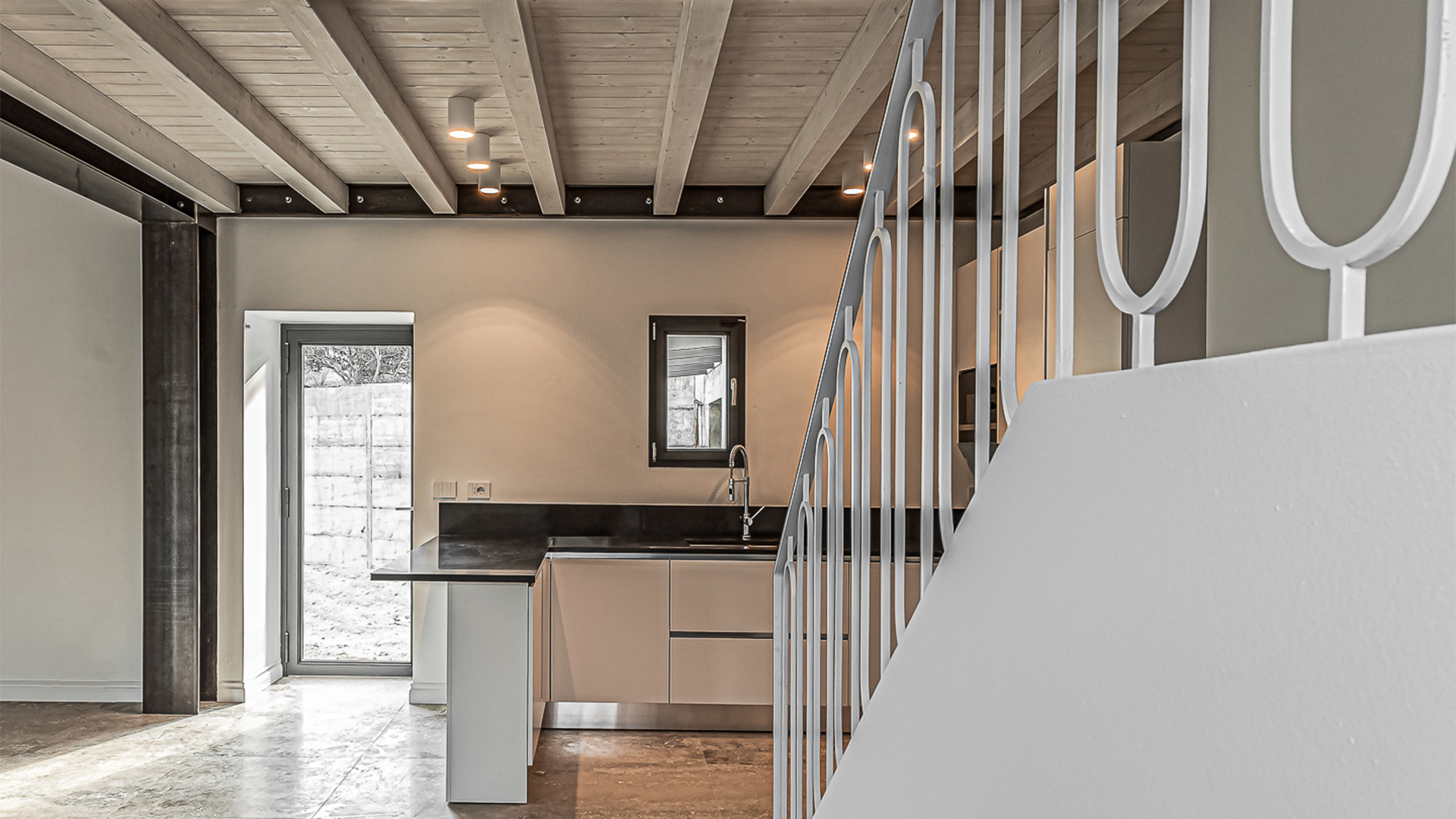 Lighting defines and makes the character of all environments, including rustic ones. When dealing with redefining the lighting of a farmhouse, making a good choice in lighting requires taking into consideration the overall style, the intended effect, and the needs of guests.
In the case of Casa Lubi, for example, the renovation was aimed at revitalizing the environment according to an architectural and aesthetic concept in balance between the past, present and future, and the lighting had the task of alternating architectural elements with iconic pieces.
How to light a rustic environment?
When you have to think about what lights to install in a farmhouse, it is important to consider crucial features such as the size of the room, the height of the ceiling, and the atmosphere you want to create. For example, if you need to light a large room, you may want to use chandeliers or ceiling lights. If you are lighting a small room, you may want to use table lamps or floor lamps.
A good strategy for making rustic rooms even more intriguing is to shape lighting that is developed on multiple levels to generate a more intriguing and engaging atmosphere. Place lights strategically to illuminate the areas you wish to highlight. Resorting to colored lights allows you to create a more lively atmosphere.

LED lights are a great option for illuminating renovated farmhouses. They are energy efficient and can be used to create a variety of lighting effects. LED lamps equipped with dimmers are an advantageous choice for illuminating a rustic setting with an eye toward actual needs, avoiding unnecessary waste of energy and ensuring that the lighting is on at appropriate times.
Lighting for country house
Natural light is especially important for homes surrounded by nature.
Try to maximize natural light by clearing spaces, using large windows, and installing clear or transparent curtains.
Recessed lights are a good choice for country homes as they are discreet devices that leave plenty of free space. You can use wall light to illuminate rooms such as the kitchen, living room and dining room effectively while leaving a lot of free space.
Wall sconces are a good option for lighting smaller areas within a farmhouse, such as a hallway, staircase or bathroom. They can be created in glass and wrought iron, wood, and decorated ceramics to create a cozy, relaxing atmosphere and are therefore very suitable for rooms centered on a relaxed feel.
Rustic country-style wall sconces can be strategically placed on either side of the main entrance as well as to pleasantly illuminate the veranda. Pendant lamps, on the other hand, are excellent alternatives for illuminating the outdoor living area.
What lights for renovated farmhouse
Pendant lights are an excellent option for illuminating the large spaces of a farmhouse. These fixtures can be used to create a focal point in a room or to illuminate a dining table or work area.
Pendant lamps are very good choices that can blend with design to create inspiring spaces.
Rustic room chandeliers are often made from recycled materials such as iron and other metals, and are paired with warm glow bulbs that give a warm, enveloping touch to the room.
In addition to the use of a modern chandelier, you can install wrought-iron light fixtures in the center of the room to fully illuminate it without having to resort to overhead lights.

Floodlights and recessed pathmakers are a good choice for illuminating various details of your farmhouse, such as doors, windows, and fireplaces, making the most intriguing visual details stand out from view.
What lights to use for a rustic environment
What types of lights are best to make rustic environments enhance their features?
Warm lighting offers the opportunity to illuminate the garden, creating a cozy and relaxing atmosphere. Cold lighting, on the other hand, is not recommended as it is more sterile. Neutral lighting, on the other hand, does not alter colors and ensures that outdoor spaces are more secure.
Appropriate hues for rustic rooms include white and shades inspired by nature and rock, and generally bright colors allow for details and points of light that add dynamism to the space. A rustic living room can be illuminated with impressive chandeliers made from recycled materials, such as metal or iron, in dark or rust tones, paired with a bulb that casts a warm, enveloping light.
Outdoor lighting is important for safety, so be sure to illuminate pathways and areas around the farmhouse. Outdoor recessed lights are appropriate solutions to properly highlight walkways and driveways.
Decorative lamps are interesting choices to make the rural atmosphere even more welcoming and natural.
Floor lights are another good option for lighting living rooms and bedrooms. They can be used to illuminate a hallway, dining room or lounging area.
LED farmhouse lighting
LED technology offers excellent performance and appreciable energy savings when it comes to farmhouse lighting.
LED bulbs are an excellent choice for farmhouse lighting because they consume less energy than traditional bulbs and last longer.
LED bulbs are a winning choice for saving energy and therefore achieving appreciable cost savings in the complete lighting of a farmstead. LED strips are attractive solutions for providing appreciable illumination to driveways in a way that makes the pathway stand out.
LED adjustable spotlights can be installed either on walls or ceilings depending on the farmhouse lighting effect to be achieved. They can be made using various materials, such as iron, copper or wood, and release a gentle light that enhances the details of furniture and decorative elements.
Need suggestions on the best type of lighting to set up in a farmhouse to be renovated?