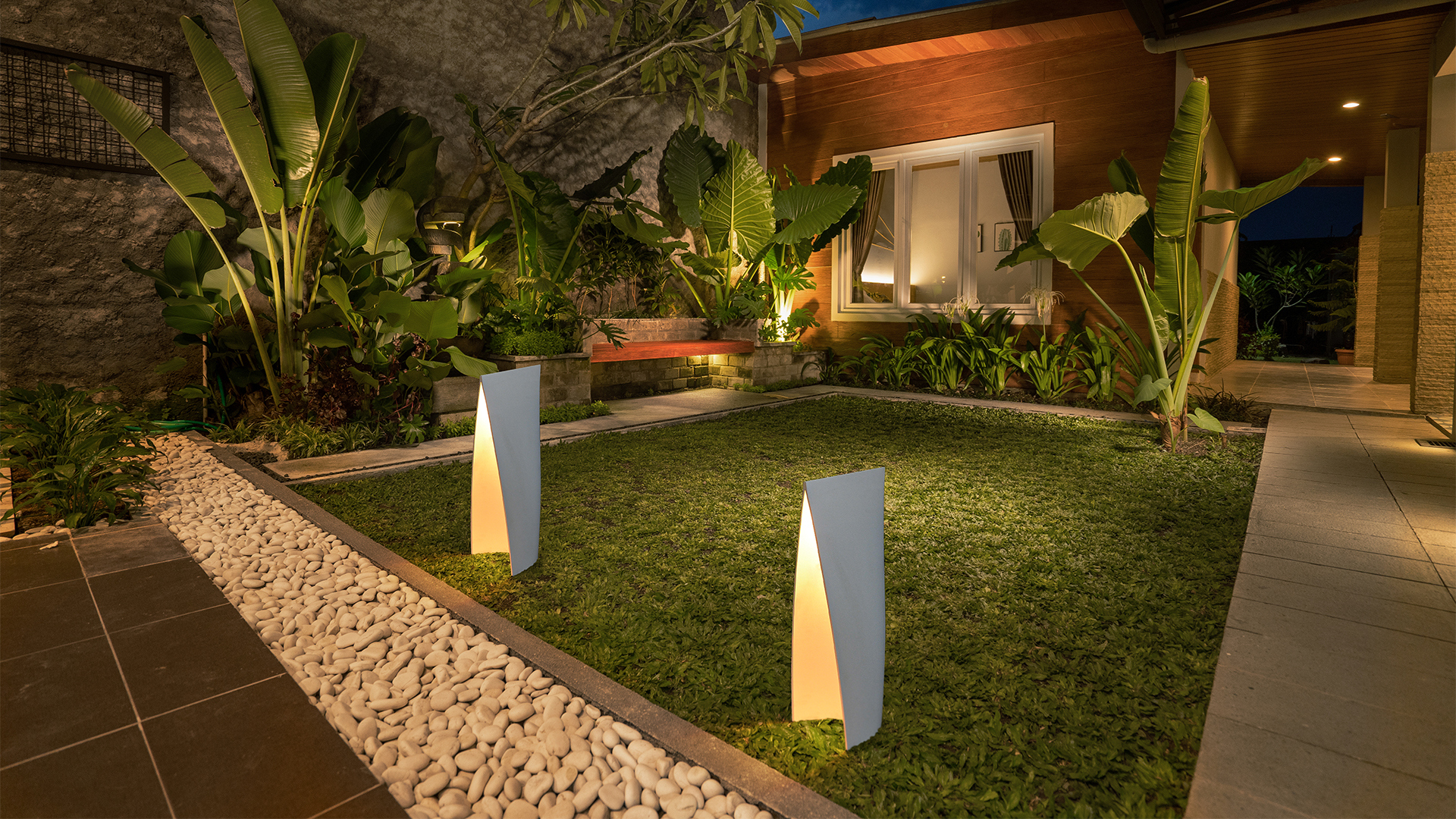 Although well kept and attractive, a garden at night becomes a gloomy place fraught with danger if it isn't adequately lighted. This is why garden lighting systems must be set up to ensure adequate brightness, in relation to the style of the garden.
How to choose the right garden lighting
Recessed spotlights, installed in the wall at the side of the house, are excellent solutions for illuminating walkways. Thanks to them, driveways and garage ramps can be made safely accessible. Spotlights also have a decorative aspect, as they diffuse a soft light through the garden, making it even more attractive and welcoming. Spotlights placed alongside walls are easy to install, aesthetically pleasing outdoor lighting systems that enhance the beauty of flowers and plants.
LED outdoor wall lights are visually pleasing solutions for downward or upward lighting that produce pleasant lighting effects in the home. Directly illuminated wall lights generate light focused on specific outdoor spots.
Indirect lighting contributes to a comfortable and functional atmosphere, enhances natural forms and provides considerable energy savings.
Bollards are essential installations to illuminate and decorate the garden at the same time, providing the necessary visibility in a practical and elegant way.
The choice of bollards for your garden must be appropriate in relation to the style of your garden and your personal preference, as well as the quality of the installations.
For example, by choosing 9010novantadieci outdoor bollards with a height of just under one meter, you can reduce the number of lighting points to achieve complete illumination of the area.
They generate a focused light that can be placed alongside other light sources without interfering with them, and thanks to their low height they are not obstructed by tree branches.
In any case, the lighting system must provide dark spaces between each device in order to avoid glare. This space varies depending on the size of the garden and the bollard type. In general, it is advisable to adopt a distance of one to one and a half meters from the sides in order to optimize the light provided by the bollards.
In order to ensure the right lighting for the garden, it is essential to consider the type of light to be provided. Neutral, cool lights ensure good visibility for safe passage, while warm lights create a sense of welcome and familiarity.

Why choose LED garden lighting bollards
Bollard lights are powerful light sources that illuminate the garden for safe passage and at the same time are attractive design elements. Light pollution caused by suboptimal lighting design risks damaging flora and fauna and excessive energy. Downward-oriented LED light bollards are perfect for reducing energy consumption and avoiding annoying glare due to sub-optimal lighting.
LED garden lighting bollards offer low power consumption, long life, no heat generation, and better performance than other types of lighting systems.They have limited energy consumption, so they could be left on all night, even when no one is at home, without particularly affecting your energy bill. 9010novantadieci promotes the use of LED lighting technologies, and in any case suggests turning off the lighting in the later hours of the day to avoid light pollution. LED fixtures don't generate any heat and don't attract insects, which makes it possible to place them in any position according to one's needs.
A trendy garden needs outdoor lighting solutions that can stand out and enhance the qualities of the specific environment. Outdoor bollards must be made of robust and reliable materials to be resistant to the atmospheric agents.
9010novantadieci bollards are made of BETALY®, a material that combines a desire for elegance with a respect for nature, as well as excellent durability and aesthetic value.
BETALY® embodies a fresh and contemporary design, a material with a fine craftsmanship look and excellent mechanical properties, which can generate elegant and graceful lighting.

Led garden lighting bollards
How to choose the right garden bollards
High-quality low bollards are made of materials that are designed to be long lasting, such as 9010novantadieci's exclusive UHPC cement formulation, BETALY®.
9010novantadieci bollard models are not affected by wear and tear caused by the weather and do not fade under the influence of UV rays.
Small lamp posts, also called bollards, are suitable for exclusive gardens. In these cases, models that are no higher than one and a half metres are opted for in order to provide a more pleasant and softer light than that produced by a light with a higher wattage.
Another decisive factor in choosing the right bollard is the type of light you want to use. A warm light ensures a cosy and soft atmosphere, whereas a cold light brightens up the atmosphere more strongly. Light that is too bright is dangerous for the animal and flower species affected, so using lighting to the extent that is really necessary improves the well-being of people and the environment.
The position where you plan to place the bollards also has its importance in properly illuminating the garden: near the entrance you can opt for two LED street lamps that highlight the door and the steps leading to the entrance.
For over 50 years we have been producing innovative lighting systems with a focus on tradition and the environment. Our products can be produced in a range of colours that are evocative of atmospheres and natural shades and are well suited to the needs of different interior design styles.