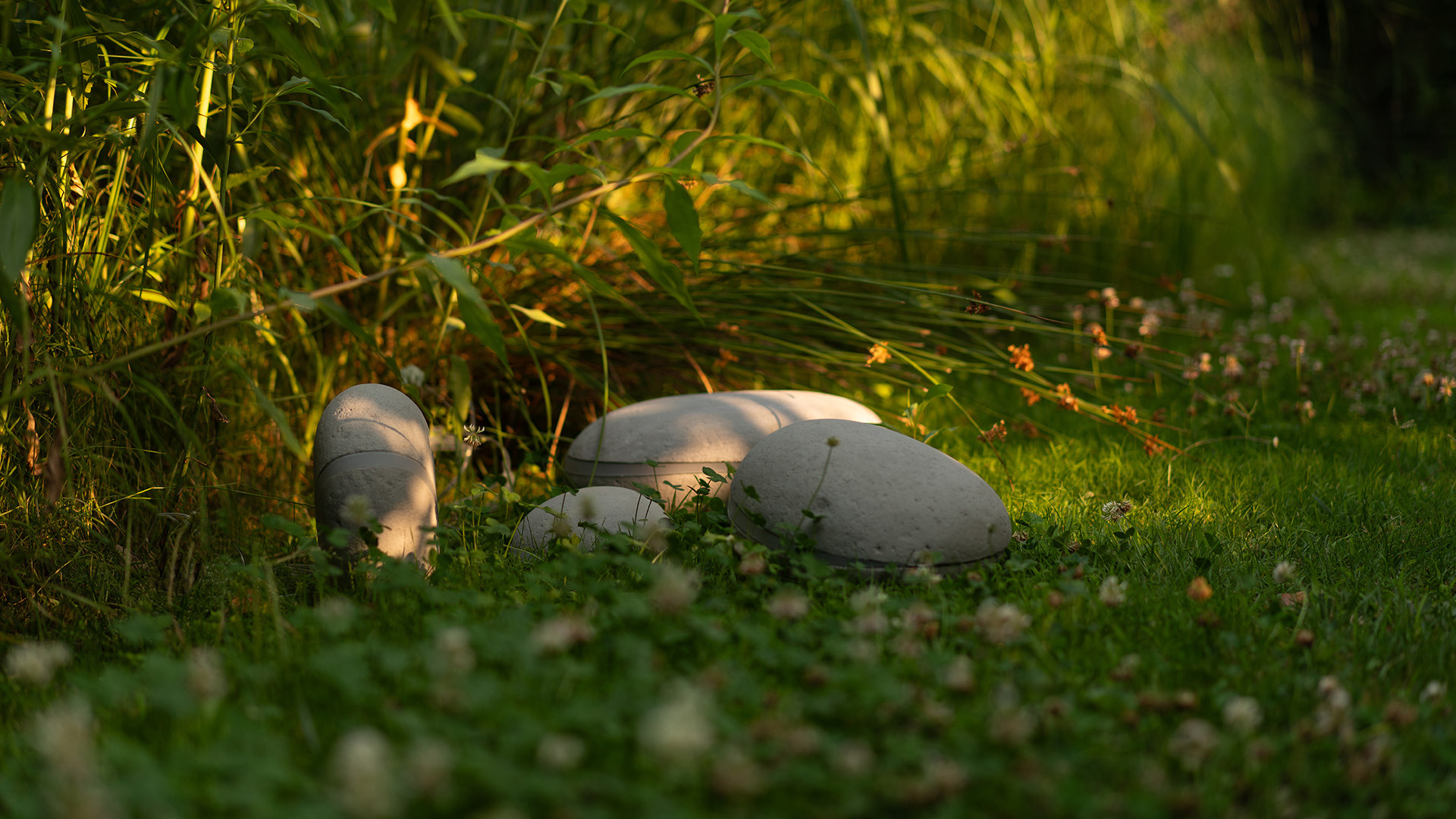 "DON'T TRY TO SHINE LIKE JADE, BUT BE SIMPLE LIKE STONE."
The idea of PRIA was born by observing the riverbanksof our territories, a background animated by stones and pebbles of different shapes, finishes, and colors. Stones smoothed by time and by the incessant flow of water. We have chosen a sample for each river near us, and we have brought it to life by giving it a luminous soul. The PRIA family of lamps is equipped with a latest generation LED source, can be repositioned and is watertight, thus we have returned to the water what we only borrowed when it was designed. By enhancing the imperfections, the shape and the uniqueness of an element that we find in nature, PRIA was born.
PRIA FAMILY
PRIA is a complete family of lamps perfect for natural outdoor spaces but that is also at ease in particular interior design situations.
When switched off it represents a whole with the environment in which it is inserted, becoming part of it with a solution of real continuity, but it is at the moment when it unexpectedly lights up that the magic takes place and the whole context around comes to life by enhancing itself with lights and shadows. PRIA is a family of lamps versatile in shape and color, ideal for illuminating in a non-invasive and consistent way any type of space.
PRIA BRENTA
The impetuous waters of the Brenta river, which flows not far from the 9010novantadieci® headquarters, smoothed and shaped the stone which then gave birth to our PRIA. PRIA BRENTA is the largest of the family. Since its upper surface is flat, it lends itself well as a support for other objects, on a poolside deck, as well as for illuminating hedges or bushes from below, revitalizing their shapes and bringing their colors to life.
PRIA SERIO
PRIA SERIO is, in terms of size, the mizzen of the family. With its rounded design, it lends itself perfectly to illuminating passages or to blend in with other stones, enhancing their shapes and surfaces when lit. PRIA SERIO owes its name and shape to a stone that the designer, Maurizio Quargnale, collected in the river of the same name that flows in the Seriane Valley in the western part of his province: the beautiful Bergamo.
PRIA ADIGE
The Adige, the river from which we chose the sample stone for the homonymous PRIA, is the second longest Italian river, flowing also in the Veneto region, where 9010novantadieci® was born. This particular stone struck by its different shape from the others: it stood upright on the edge of the river challenging the placid current. This is why PRIA ADIGE was designed for vertical positioning to read the natural textures that rise in height, such as hedges or bushes.
PRIA MINI
The smallest of the family was born from a synthesis of the three largest versions: PRIA MINI. Also available in the self-powered version, PRIA MINI solves all situations in which it is necessary to have an efficient but non-invasive diffused light: it will be perfect both for illuminating a romantic aperitif on the beach at sunset and for reading a book lying by the pool in the evening.
WARM OR COLD LIGHT
PRIA encloses a LED light source available in a range of three color temperatures:
2200K: ideal in rural environments or where it is necessary to recreate relaxing and enveloping environments;
2700K: a bright and warm light suitable for modern environments;
3000K: a happy medium between warm and cold light suitable for any environment.
Maurizio Quargnale is a designer and lighting designer always oriented to a "gentle" approach to the environment.
His challenge is to create sustainable light objects, respectful of the context in which they will be inserted in which the synthetic and functional design dialogues perfectly with the vegetation often becoming part of it as an element of continuity almost not distinguishable but of great effect.
Discover every PRIA product!