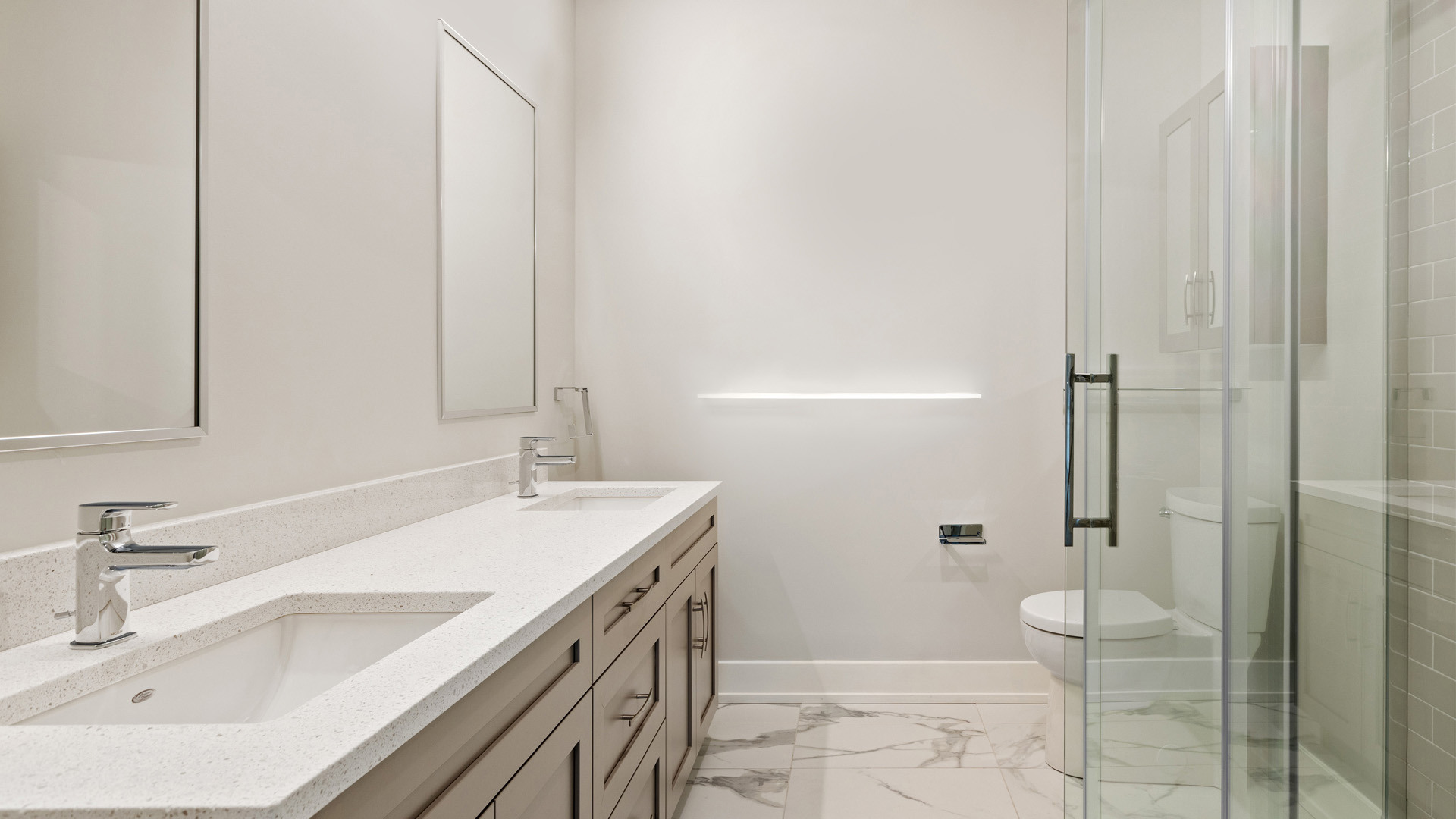 A blind bathroom is often seen as an oppressive room that lacks the vitality to make it a joyful environment, due to the absence of windows, but with the right lighting, you can make it an elegant and welcoming environment!
How to light a blind bathroom: some tips
Glossy walls and tiles also play their part: the white color helps reflect the lighting by amplifying the effect of artificial light sources. Placing bathroom plants helps brighten up the room and reduce regret about the absence of windows. Some plants that manage to persist even in a windowless bathroom are sansevieria, spathiphyllum, and maranta
A mirror is an important accessory to maximize the brightness that a bathroom can benefit from. A beautiful mirror model as large as the wall behind the washbasin can generate an admirable visual effect. Light-colored furniture allows you to amplify the feeling of freedom in the room, especially if it has a high-gloss finish, which emphasizes the aesthetically satisfying details of the room.

Lighting a blind bathroom: how best to enhance it
In general, the color white combined with contrasting decorative elements, or a light hue such as beige, allows for an appreciable sense of brightness in the enclosed bathroom. Marbles and tiles are valuable allies for transmitting as much light as possible even in a confined space such as a windowless bathroom. Also keep light fixtures and lamps clean and in good working order to ensure that the light emitted is always bright and clear.
Glossy coatings such as glass help make the room brighter; applying coatings such as resin or resin cement will help increase protection against moisture and shine the light better.
We generally recommend applying neutral or cool lights with an intensity close to that of natural lighting for the well-being of the occupants. In any case, it should be effective and the light should focus on the face without producing shadows. Soft, subdued lighting helps you enjoy the peace of your home so that the details turn out to be more fulfilling.

With smart lighting, you can meet the needs of giving light to a windowless bathroom according to your taste and saving energy. You can also create custom lighting scenarios for different situations.
Lighting a blind bathroom: the best solutions
We can opt for light points placed in different positions to ensure even lighting and cleverly enhance certain areas of value while leaving others in the background.
Wall sconces with light and diffuse shades are excellent elegant solutions to generate natural cut lighting that does not make us regret the absence of windows. You can opt for a slender upward model with a vertical structure, so that the light is directed throughout the room evenly to provide the necessary light in a functional manner.
Adjustable spotlights are an excellent option since they can be oriented toward the desired direction to achieve the required effect. We can apply several bathroom spotlights and place them in the ceiling to gain even lighting reminiscent of natural light. Illuminated mirrors not only add a touch of luxury to your bathroom, but also diffuse light evenly.
Another interesting solution are ceiling lights, discreet and elegant sources of illumination that give off a soft but suitable light to provide the required visibility. Ceiling lights are made of steel, aluminum or plastic and are advantageous choices for giving the room a refined tone. In the case of classic style bathrooms, we can opt for accessories with a vintage style, so as to enhance the aesthetic aspect as well.
How to illuminate a windowless bathroom with LED strips and spotlights
LED lights are absolute choices to consider for the enclosed bathroom because they are energy efficient, produce even light and can be adjusted in intensity to create different atmospheres.
LEDs are undoubtedly solutions to consider for lighting windowless bathrooms: they have good intensity and involve low energy consumption.
LED ceiling lights make it possible to spread a satisfying and effective natural cut light. In the case of bathrooms with very high ceilings, you may consider placing chandeliers to give a sought-after chic touch. Skylights are generally used to illuminate narrow bathrooms : glass cement bricks can be installed inside which LEDs can be inserted to provide the required light.
In the case of classic rooms, for example, you can think of retro models with undoubted charm.
LED lighting for blind bathroom: the best solutions
LED strips are rewarding indirect lighting solutions. They can be placed behind bathroom elements or along frames to produce a striking effect.
Choose a mirror with integrated LED lights for the most elegant effect. You can use light bars or spotlights mounted on or around the mirror to eliminate shadows and improve visibility while doing makeup or shaving. Candles or decorative LED lights can help create a cozy atmosphere in narrow bathrooms without natural light sources.
Adjustable LED floor lamps allow the enclosed bathroom to be given the appropriate light at all times.LED bars are practical devices that can be placed above the sink to create a satisfying light source to aid operations in front of the mirror.
LED spotlights are an excellent alternative for illuminating the bathroom in an engaging, pleasing and even way. They can be distributed on the ceiling in two parallel rows or on both the floor and the wall to ensure that the windowless bathroom has an even illumination close to natural lighting.
Need suggestions on how to light a windowless bathroom? 9010 models are made of high-quality materials and come in a wide variety of colors and styles to fit any decor.